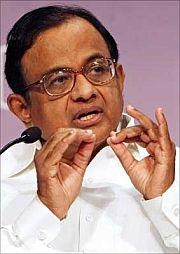 Home Minister P Chidambaram on Thursday hit out at the Communist Party of India-Marxist for seeking to link the Trinamool Congress leader Mamata Banerjee to Rajdhani Express hijack. He also talked tough on Maoist violence, saying no democracy could accept "violence as an instrument of change".
"The CPI-M seems to know more about what is happening in Trinamool Congress than what is happening in West Bengal. I think these are baseless charges," Chidambaram said when referred to CPI-M leader Prakash Karat's charge that Banerjee was linked to the hijacking.
"Just because the CPI-M and Trinamool are opposed in West Bengal, responsible political leaders should not hurl charges against other equally responsible leader," he said, adding, "I am not at all happy that such charges should be levelled against a political leader."
Karat had on Wednesday suggested that the People's Committee against Police Atrocities, which allegedly detained the train carrying about 1,200 passengers, had political patronage of Banerjee, the railway minister.
Chidambaram said there was no intelligence input to suggest that the train would be detained in West Bengal on Tuesday and a probe was being conducted to ascertain who was behind the act.
He said if anyone in the government knew that the Rajdhani Express would be detained, it would have made an attempt to nip it in the bud.
On the government's approach to deal with Naxalism, the home minister said, "I have already stated our position. We do not accept violence and our security forces will act against anybody or group which engages in violence."
"No democracy, no republic can accept violence as an instrument of change," Chidambaram said while briefing the media on the decisions taken at the union cabinet meeting.
At the same time, he said he had offered to hold talks if the Maoists or any other group abjures violence.
"The only thing I have been saying is abjure violence, we are willing to talk," he said. "As long as they don't abjure violence, is it not the duty of the state -- central government and state government -- to take action against those indulging in violence? Violence is unacceptable, violence must stop," he said.
Describing the Rajdhani Express episode as a wake-up call, Chidambaram said violence hitherto used to take place in remote places, but when it happened with Rajdhani train, people woke up.
"Today, violence is against a police officer, it could be against 1,200 passengers in a train... I have been giving this wake-up call for several months," he said.
Disagreeing with the contention by some quarters that the government was at "war" with the Naxals, he said only CPI-M and the media used the word.
"No civilised society will go to war against its own people but people will have to stop violence."
On Karat's contention that the Centre was not ready for a joint operation against the Maoists in West Bengal, Chidambaram said the CPI-M leader "should talk to his chief minister; he will tell him the actual situation".
The home minister said "maximum forces" have been given to West Bengal for three districts where militants are operating.
"The chief minister is fully aware of all the action that has been taken. I have briefed the chief minister personally," he said.
While talking about the ways to deal with Naxalism, Chidambaram referred to an effort by Digvijay Singh when he was the chief minister of Madhya Pradesh in dealing with a violent group in Balaghat. Singh had proposed to reduce police presence if there was no violence for three months. Chidambaram, however, said it did not mean that that particular example would work everywhere.
Image: Home Minister P Chidamabaram