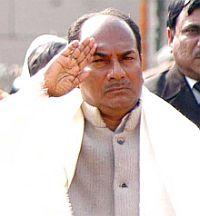 Union Defence Minister A K Antony on Wednesday rejected his cabinet colleague and Union Railway minister Mamata Banerjee's demand for deployment of army in Maoist-affected areas of West Bengal, saying use of armed forces for internal security was the 'last resort.'
"Whether in West Bengal or any other area, our view is that employing armed forces for internal security is the last resort. Only as the last resort we will deploy armed forces in Naxal areas," he said.
His comments on Mamata Banerjee's demand in this regard came at a media interaction on the sidelines of a Coast Guard Commanders' conference in New Delhi.
The Trinamool Congress chief had on Tuesday demanded that the Centre should use army to recover arms allegedly taken away by 'Communist Party of India-Maoist goons' from the state armoury in West Bengal.
Antony said law and order issues should be handled by respective state governments and ruled out talks with Maoists before they abjure violence. The government would 'not tolerate' attacks by the Left extremists, he said.
"What we are asking them is to abjure violence," Antony said replying to queries if talks with the Naxals should be unconditional.
Agreeing that Naxal violence was a serious threat to the internal security, Antony said the Centre would render all help to the affected states.
He said the government was of the view that tribal and Maoist-affected states needed more development.
"But that is not an excuse for violence and bloodshed. The government will not tolerate anyone taking law into their hands," he said.
Image: Union Defence Minister A K Antony