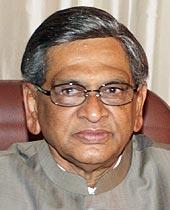 India on Wednesday said the resolution of the boundary dispute with China will take time as it required 'a lot of patience'.
A day after his talks with Chinese counterpart Yang Jie Chi in Bengaluru, External Affairs Minister S M Krishna said both the neighbours are eager to maintain cordial and friendly ties.
He also refuted reports about China building a dam on Brahmaputra River, reports of which had raised concerns in India.
"China wants to have cordial relations with India and India would like to have very friendly relations with China. The effort is to take the relation to being one of partnership," Krishna told reporters, adding that he had found goodwill on both sides.
When referred to reports about incursions by Chinese troops, he said the border with China is not delineated and "as a result, there could possibly be incursions once in a while, but there is nothing to be alarmed about as the border is peaceful and relations are warm."
Krishna pointed out that special representatives of the two countries -- National Security Adviser M K Narayanan and Chinese Vice Foreign Minister Dai Binggou -- are engaged in discussions for resolution of the boundary question.
"It is a long boundary, it's a time consuming process. We will have to have a lot of patience before they (special representatives) complete their task," he said.
Responding to a question, Krishna said there was no time frame' for resolution of the boundary issue with China and that the Special Representatives know what they are doing.
"I would like to assert that the India-China border is one of the most peaceful and tranquil borders," he maintained.
Krishna said that even if incursions by Chinese troops occur, these are addressed at the ground level. On the Dalai Lama's proposed visit to Arunachal in November, he reiterated that the Tibetan spiritual leader is a 'guest' and free to go wherever he wants within the country.
"The only restriction we have put on the Dalai Lama is that he should not indulge in political activities or indulge in boundary-related questions," Krishna said.
The proposed visit of the Dalai Lama to Arunachal Pradesh recently triggered a war of words between India and China. Beijing voiced its objection to the visit but New Delhi said no curbs would be put on the Buddhist spiritual leader's movements.
Krishna also cleared the air over a recent media report that China was building a dam on Brahmaputra River, saying no such activity was taking place.
"We made verifications with respect to the suspected dam building on Brahmputra River by China. It has been conveyed to us by our experts that no such thing is happening," he said.
In the wake of the report, India had voiced its objection, saying it would divert water and cause submergence downstream in the North-Eastern states.
Krishna and his Chinese counterpart met in Bengaluru for nearly 90 minutes on Tuesday, discussing ways to enhance ties and address irritants.
They discussed trade relations and other matters like issuance of visas by China to Kashmiris on loose sheets of papers instead of passports and Chinese participation in projects in Pakistan occupied Kashmir.
"We discussed (the Kashmiri visa issue). They (Chinese side) said they made no discrimination. We said there should be uniform visa norm for Indian nationals," Krishna said when asked whether the matter related to issuance of visas by China to Kashmiris came up.
On Chinese participation in developmental projects in PoK, he said Jammu and Kashmir is an integral part of India and "any activity by anybody there is illegal. This has been made known to those concerned."
To a question, he made a distinction between China and India, saying the former has not allowed its soil to be used by forces hostile to India (unlike Pakistan). At the same time, he said, "We don't consider any neighbour as a threat to India because we say we want friendly relations with neighbours. We would like to have the best of relations with neighbours."
To a query about India not being seen as assertive vis-a-vis China, Krishna said New Delhi seeks relations with everyone as equal and based on mutual respect, regardless of any nation's economic or military might.