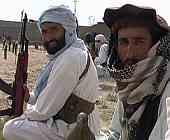 India on Wednesday dubbed as "most ridiculous" and irrational the allegation by Pakistan that it was funding Taliban.
External Affairs Minister S M Krishna said India considers Taliban as a dreaded terror outfit, and wants Pakistan to take action against it along with other groups like Lashkar-e-Tayiba and Jamaat-ud-Dawa (JuD).
"This is the most ridiculous statement I have heard," he told media persons when asked about his reaction to the allegation by Pakistan's Interior Minister Rehman Malik that India is funding Taliban.
To a question he said, "When such irrational statements are made we take up (with Pakistan) through diplomatic channels."
The minister said India has asked Pakistan to act against terror groups like LeT and JuD, which change names but "breed terror".
Referring to Mumbai attack, he said the six people arrested in Pakistan as well as the lone terrorist Ajmal Kasab held here, had admitted that they were Pakistani nationals and hatched the conspiracy from that country.