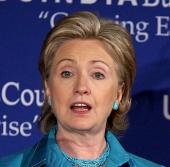 United States Secretary of State Hillary Clinton on Wednesday asked Pakistan to face up to the gravity of threat posed by nuclear weapon-armed terrorist groups in its midst, as it urged the country to join the nuclear non-proliferation process.
"The Al Qaeda and their extremist allies are always on the hunt for nuclear material and it doesn't take a lot to create a very damaging explosion with extraordinary political ramifications. Now that we see that the Pakistan military recognises the threat posed, we want them also to imagine what that threat would be with a nuclear weaponised group in their midst," said Clinton, who arrived in Islamabad on a three-day visit today.
"It's not about what might happen to the US or in Europe. It's what could happen in Pakistan and what the impact of that would be," the Secretary of State told reporters traveling with her, the transcript of which was released by the State Department.
While asserting that Washington had a high degree of confidence that Pakistan's nuclear weapons were safe, Clinton said the US government was worried about proliferation.
"We have good reasons to worry about proliferation," the top US diplomat said, apparently hinting at activities of disgraced atomic scientist Abdul Qadir Khan.
"Proliferation remains a very big issue for us because of the threat it poses. We have raised all kinds of concerns about A Q Khan going back a number of years. We will continue to raise those concerns," Clinton said.
She said she is going to raise the issue of proliferation in her talks with Pakistan's civil and military leadership.
"We want to encourage Pakistan to join with us in the non-proliferation review conference that will be held next spring," the Secretary of State said.
She also requested Islamabad to work with Washington on the Fissile Material Cut-off Treaty.