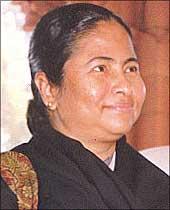 Taking the battle against the Left Front government in West Bengal [ Images ] to the Centre, Railway Minister Mamata Banerjee [ Images ] on Tuesday met Home Minister P Chidamabaram and demanded the imposition of President's rule to 'save democracy' in the state.
"The Centre should dismiss the state government and impose President's rule as it is necessary to save democracy there," she told reporters after meeting Chidambaram.
The Trinamool Congress [ Images ] chief said the Centre should utilise the provisions under Article 355 (to protect a state against external aggression and internal disturbance) followed by Article 356 (to dismiss a state government and impose President's rule) so as to restore the rule of the law in West Bengal.
She alleged that Communist Party of India [ Images ] – Marxist's cadres were 'killing' democracy with the help of the state machinery. Banerjee also demanded that the Centre should use the army to recover the arms allegedly taken away by 'CPI-M goons' from the state armoury.
During her meeting with Chidambaram, the West Bengal leader was accompanied by the family members of West Bengal constables Shabir Mullah and Kanha Godai, who were allegedly abducted by Maoists in July.
"Though it is three months now since these constables were kidnapped, the West Bengal police is making no attempts to trace them. That is why I had to meet the Home Minister to plead their cases," she said. Banerjee said Chidambaram assured her that all possible help will be provided to trace the constables.
Attacking Chief Minister Buddhadeb Bhattacharjee [ Images ] for the prevailing situation in the state, the Trinamool Congress leader alleged that the Maoists and the CPI-M [ Images ] cadres were 'brothers'.
On whether she was let down by the Centre in her fight against the 'horrible and very serious' situation in the state, she said, "We are knocking at the doors of democracy for justice:.
"If such things happen in Gujarat, Rajasthan [ Images ] or Uttar Pradesh [ Images ], it is bad. Is it not bad if such things happen in West Bengal? If you can take action against them, then why not in West Bengal, where there has been no law and order for the past 32 years," Banerjee said.
She claimed that CPI-M cadres were setting up camps in Lalgarh in West Midnapore district and violating prohibitory orders.
"Armed CPI-M cadres are setting up camps there but other parties are not allowed to go there or indulge in political activities. This is a mockery of democracy," she added.