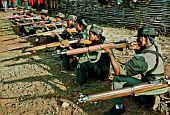 Maoists on Thursday killed 17 policemen when they ambushed a police patrol in the dense forests of Gadchiroli district in Maharashtra, ignoring stern warnings by Union Home Minister P Chidambaram, who had asked them to give up violence or face action.
In a rerun of the beheading of a Jharkhand police officer by Maoists near Ranchi in a Taliban-type action early this week, a police informer identified as Suresh Alami met a similar fate in Gadchiroli, just before the third major Maoist strike in this district.
The daring attack occurred when a police party of nearly 40 personnel came under heavy fire from 150-200 Maoists at approximately 1 pm near Laheri police station of the district, when it was returning after undertaking search operations, following an intelligence input that Maoists had assembled in the area.
The policemen, who were outnumbered by the heavily armed Maoists, retaliated and their encounter lasted for nearly three to four hours. At least 17 policemen, including sub-inspector C S Deshmukh, were gunned down and several injured after they were attacked indiscriminately, police officials said.
Approximately 15 Maoists were also killed, they said. The attack took place five days before the Maharashtra assembly elections. The encounter came barely hours after the Maoists set on fire a gram panchayat office in Gadchiroli district.
The attack coincided with the Cabinet Committee of Security meeting presided by Prime Minister Manmohan Singh in New Delhi to discuss the rise in Maoist violence.
District Collector Atul Patne told PTI that Alami's severed head was found near his body as Maoists had suspected him to be a police informer.
Patne said the Left-wing extremists used sophisticated weapons on the police party which was completely outnumbered.
"As many as two platoons of the Border Security Force (50 personnel) and additional police force was rushed to the spot and they managed to save the rest of the policemen caught in the heavy fire," he said.
The killing took place two km from Lahiri police post in Bhamragad tehsil of the district. In February, 15 policemen were killed in Maoist attacks and on May 16, police personnel, including five women, lost their lives in another Maoist strike in the district.
Taking stock of the situation, the Centre has rushed additional paramilitary forces to the area, Home Secretary G K Pillai said in New Delhi. Inspector General of Police (Nagpur) Surendra Kumar said combing operations were underway but added that it was a difficult  terrain.
"We have sent some relief parties there and they have secured the area," District Superintendent of Police S Jaya Kumar said, adding that efforts were being made to airlift the injured.
"It is a war-like situation... we are committed to fighting the Maoists and we won't be cowed down," Maharashtra Chief Minister Ashok Chavan said.
Asked if the state government would seek help from the Indian Air Force to tackle Maoists, Chavan said, "We will do whatever is required."
Pointing out that Maoist menace was a common problem faced by Maharashtra, Chhattisgarh and Andhra Pradesh, Chavan said, "This is an inter-state issue and will have to be tackled accordingly."
Asked if he would seek the central government's help, Chavan said, "We will need the Centre's help to tackle the problem."