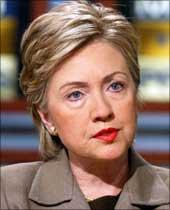 US Secretary of State Hillary Clinton will arrive in Islamabad on Wednesday for meetings with Pakistan's top leadership, where the ongoing offensive against the Taliban and the regional security situation are expected to be the top agenda.
Details about Clinton's first visit to Pakistan since assuming her position are being kept under wraps due to security concerns in the wake of a deadly wave of bombings and suicide attacks unleashed by the Taliban.
Clinton is expected to meet President Asif Ali Zardari, Prime Minister Yousuf Raza Gilani, Pakistan Army chief Gen Ashfaq Parvez Kayani and Foreign Minister Shah Mahmood Qureshi during her four-day visit, sources said.
On Friday, Clinton will meet senior citizens and leaders from Pakistan's northwest and tribal belts, where the army has launched an operation against the Tehrik-e-Taliban Pakistan led by Hakimullah Mehsud.
The powerful Pakistani armed forces leadership may take up its concerns about conditions attached to US military aid for Pakistan during the visit.
The USD 2.3 billion (about Rs 108 billion) aid to Pakistan is part of the USD 680 billion (about Rs 31,990 billion) aid of the 2010 Defence Authorisation Bill, which was passed by the Senate and the House of Representatives in early October.
US President signed the Kerry-Lugar bill few weeks ago, which envisages providing non-military aid of USD 7.5 billion (about Rs 353 billion) to Pakistan over five years, but with strings attached to it.
The army's objections primarily relate to clauses in the US bill about Pakistan's nuclear weapons programme, ending support for cross-border activities by Pakistan-based militant groups and the civilian government's role in military promotions and appointments.
The military and political leadership could also take up the issue of speedy reimbursement of Pakistan's expenses for the war on terror and the need for sophisticated equipment and weapons for the campaign against the Taliban, sources said.
US Special Representative for Afghanistan and Pakistan Richard Holbrooke has described Clinton's visit to Islamabad as the most important trip she would be undertaking since she became the US secretary of state.
Image: US Secretary of State Hillary Clinton