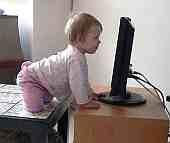 At a time when parents are leaving no stone unturned to give best education to their children to make them achievers, an institute has come up in Gandhinagar that promises to give couples "super child" by birth.
The 'Super Child University', established by 'Vishwa Kalyan Sanstha' claims to achieve this task on the basis of ancient Indian wisdom and modern science.
"In today's world, education is given to children after they are born. But, in Super Child University, newly married couple are given training to get super child soon after their marriage," Prahlad Patel, founder of the organisation said.
Young couples are coming to the institute established by Patel in the hope to get super child by birth.
"I firmly believe that a child with extraordinary qualities can be brought to the world by a couple who wishes for it. I have made a deep study of the old Indian literature like Charaksahita, Shrushutsahita, Astang Hriday and other Ayurved books. I have also studied latest genetic science and after that established this institute," Patel said.
"We have started developing a state-of-the-art Genome Development and Research Centre (GDRC) at our institute. Research in the GDRC would be done with a goal of delivering super child to the young couples," Patel said.
Young couples desirous of having a super child are called for one-week stay at the institute.
 
"We first ask them to visualise what type of child they want and guide them on how to proceed about it and continue the practice once they go to their home," Patel said.
Next, the couple is called for a week in early part of mothers' pregnancy and they are guided on how to teach a child inside the womb of the mother.
"It is well known that child in the womb of mother is receptive to outer world and starts learning things their itself," Patel said.
"We ask them to continue the teaching of child in the womb during the pregnancy period," Patel said.

"Then, after the child's birth, be it a girl or boy, we carry out classes after a certain age for his or her all round development," Patel said.
Urvashi Pujara (27) and her husband Raghav who are recently married have attended a weeklong stay at the institute. "We think it is possible to give birth to a good child and mould a child as per his or her faculty after attending a week long class," Urvashi said.
"Every couple wishes that they should get a good child but before attending the institute we never thought of such things. They taught us what to eat, drink and even think when we want a good child and we have started adopting these things in our daily life," Urvashi said.
Patel has also written a book titled Superchild -- A Science of Conceiving Best Children.