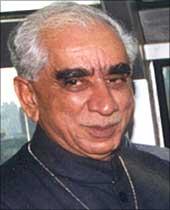 Mohammed Ali Jinnah did not win Pakistan as Congress leaders Jawaharlal Nehru and Sardar Vallabhbhai Patel 'conceded' Pakistan to the Quaid-e-Azam, with the British acting as an ever helpful midwife, claims senior Bharatiya Janata Party leader Jaswant Singh.
In his new book Jinnah - India, Partition, Independence, which will hit the stands on August 17, he recalls the events leading to the Partition as well as the "epic journey of Jinnah from being the ambassador of Hindu-Muslim unity, the liberal constitutionalist and Indian nationalist to the Quaid-e-Azam of Pakistan".
Singh raises several questions on partition. "How did you divide a geographic (also geo-political) unity? Through a 'surgical operation', Mountbatten (the last British viceroy) had said, and tragically Nehru and Patel and the Congress party had assented," he writes in the book, excerpts from which have been reproduced by India Today magazine.
"...Jinnah did not win Pakistan, as the Congress leaders -- Nehru and Patel finally conceded Pakistan to Jinnah, with the British acting as an ever helpful midwife," Singh says in his 669-page book.
"The cruel truth is that this partitioning of India has actually resulted in achieving the very reverse of the originally intended purpose; partition, instead of settling contention between communities has left us a legacy of markedly enhanced Hindu, Muslim, Sikh or other such denominational identities, hence differences...," the book says.
Singh describes the partition of India as the "defining event of the 20th century for this entire subcontinent. The searing agony of it torments still, the whys and what-fors of it, too. We relieve the partition because we persist without attempts to find answers to the great errors of those years so that we may never, ever repeat them. Also, perhaps by recounting them we attempt to assuage some of our pain".
According to Singh, both Jinnah and Nehru wanted special status for Muslims. "It is ironical that among the great constitutionalists of those times, Jinnah and Nehru became the principal promoters of 'special status for Muslims'; Jinnah directly and Nehru indirectly".
"The irony of it is galling when sadly, we observe that both of them, these two great Indians of their times, were either actually or in effect competing to become the 'spokesman of Muslims' in India," writes the former external affairs minister.