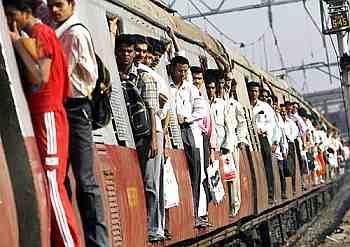 Life in Mumbai was thrown out of gear as local trains, the city's lifeline, came to a grinding halt at many places on Monday.
Television channels reported that the motormen of Mumbai's Central Railway had gone on a flash strike.

When reports last came in, trains on the Central and Harbour line were running an hour behind schedule.
The motormen were upset over vacancies not being filled despite repeated requests. They also claimed to be over-worked and stressed out.
Photograph: Arko Datta/Reuters