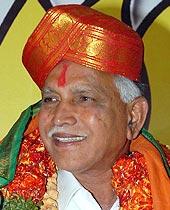 The rift between Karnataka Chief Minister B S Yeddyurappa and his mine-owning ministerial colleagues continued as they stepped up their campaign against a new cess imposed on lorries transporting iron ore.
Tourism Minister G Janardhana Reddy, himself a mine owner in the ore-rich Bellary district, took the lead by holding parleys with fellow miners since Sunday, to mobilise support against the Rs 1,000 cess on each lorry load of iron ore, according sources close to them.
There are 92 licenced owners of mines in the district and nearly 40 of them have been carrying on mining activity.
Reddy and his brother, Revenue Minister G Karunakara Reddy and their confidante Health Minister B Sreeramulu, have been up in arms against some of Yeddyurappa's decisions, including transfer of Gadag Deputy Commissioner Prasad for his 'failure' to implement relief measures in flood-hit areas.
The Reddy brothers are also unhappy with the Karnataka CM's style of functioning, and they accuse him of interfering in the working of their departments, besides neglecting them in decision making on certain issues.
Despite their opposition to the cess on lorries, the government went ahead with the step to mop up resources for the rehabilitation of people affected by the recent floods, in the northern districts of the state.
The sources said the Reddy brothers were trying to drum up support from the lorry owners associations by asking them to suspend the transport of ore to protest the cess.
The Reddys, who held a meeting with mine owners on Sunday, continued it today. They have also been sulking over the 'sidelining' of some ministers loyal to them by Yeddyurappa.
Minister for Libraries Shivanagowda Naik, Minister for Sports Goolihatti Shekhar and Minister for Social Welfare D Sudhakara, who are facing charges of cheating a nationalised bank, have complained to the Reddys about being 'ignored'.
This is not the first time that the Bellary trio has revolted in the last 18 months after the Bharatiya Janata Party came to power in the state. They had held a meeting of legislators supporting them and questioned the style of functioning by Yeddyurappa and some other ministers, including Rural Development Minister Shobha Karalande. The ministers alleged that Karalande was interfering in the administrative matters of other ministers.
A minister loyal to Reddy, speaking on the condition of anonymity, said, "This time, the situation is a bit serious. But it will not pose any threat to the government".
Yeddyurappa has consistently maintained that the 'minor differences' between him and the Reddy brothers would be sorted out soon.