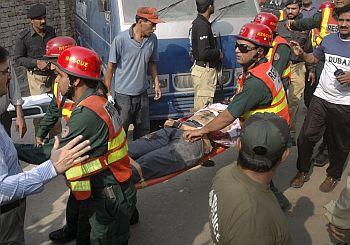 Pakistani law enforcement agencies on Sunday claimed to have made a breakthrough in their probe into the recent three near-simultaneous terror attacks on security facilities in Lahore by arresting a Punjabi Taliban militant, from whom banned literature and 'jihadi' compact discs were also seized.
The militant was arrested late on Saturday night from a house he had rented in the Lahore cantonment, officials said.
They added that the man was involved in a terrorist raid on a police training centre in the suburb of Manawan, one of three security facilities targeted by militants on October 15.
"We have seized 30 'jihadi' CDs, banned literature, 100 mobile phone SIM cards and cellphones from the house where he was staying with his wife and two children," a senior police official said.
The police official said the militant had earlier rented a house near the police training school in Manawan and then shifted to another place.
"The CDs seized from him show how terrorists are trained, their escape during raids and how to attack potential targets.
The man had given some SIMs to other people which were found to be active," he said.
The militant, whose identity was concealed for security reasons, has disclosed important information about his network, officials said.
About 20 security personnel and civilians were killed in the three attacks while 10 terrorists were either gunned down by security forces or blew themselves up.
The government has said banned groups Lashkar-e-Jhangvi, Jaish-e-Mohammad and Sapah-e-Sahaba had joined hands with the Tehrik-e-Taliban Pakistan to carry out terrorist attacks in Punjab, the country's most populous province.
Image: A file picture of the terror attack on the Federal Investigation Agency in Lahore on October 15