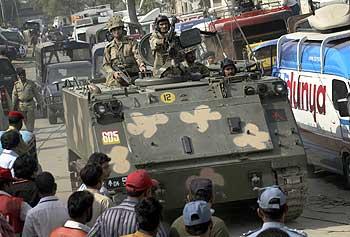 With the terror toll mounting, Pakistan's law enforcement agencies have begun to conduct raids across the country, arresting over 80 people suspected to be involved in the recent spate of deadly strikes, including in the synchronised suicide attacks in Lahore which left 29 people dead.
Keen to unravel the extent of involvement of Punjabi militants in the new attacks, security agencies took 36 suspects into custody from Lahore, where the Taliban mounted three near-simultaneous terror attacks on security facilities.
Twenty suspects were picked from Gulshan-e-Daud Colony in Manawan, where terrorists targeted a police training centre on Thursday. Eleven more were detained from areas on
Bedian Road where another training centre came under attack.
Four others were nabbed from Temple Road where a gunman was killed while attacking a Federal Investigation Agency office, and one more from the cantonment, police said.
The police dragnet stretched to Karachi where authorities arrested 43 suspects, including four who were receiving treatment for gunshot wounds in a hospital.
The police stumbled upon the injured suspects after they caught two militants belonging to Amjad Farooqi group, a Tehrik-e-Taliban Pakistan faction having links with the Al Qaeda.
The two militants were arrested from a house near the super highway in Karachi, sources said. A large number of explosives and weapons were recovered from the house and their arrest led the police to the hospital.
"The agencies suspect all six were involved in the recent spate of terrorist attacks in Lahore and Peshawar and might have come to Karachi to hide and recover from injuries," the sources said, adding that the authorities expected to make more arrests in the next few days.
The security agencies also caught 37 other terror suspects along with a large cache of weapons from a factory that had been abandoned some time ago.
The suspects were clad in uniforms of security agencies, TV channels reported. Officials said they belonged to Battagram in the NWFP and the Waziristan tribal region.
As the suspects were grilled, Rana Sanaullah, Law Minister of Punjab province, told reporters, "We have taken a number of suspects into custody but we cannot give details until their interrogation is completed."
A senior police official in Lahore said Qari Ishaq, an accomplice of Thursday's attackers, was among those arrested in the city.
"A fake police identity card and weapons have been recovered from Ishaq, who was living in a rented accommodation in the cantonment. He made calls from his cell phone to some persons in Waziristan," the official said.
The arrests came as Pakistan was rattled by a fresh wave of attacks by suspected Taliban militants, who stormed three security facilities in Lahore and carried out a suicide bombing at a police station in Kohat. An explosion in NWFP's capital Peshawar on Thursday, the fifth terror strike in the country within 11 days, left at least 40 people dead.
Image: An armoured vehicle is seen arriving to the Elite Police Academy on Bedian Road after the training centre was attacked by militants | Photograph: Reuters