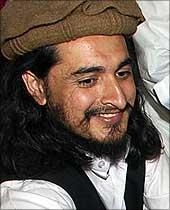 As his militants triggered a series of attacks and suicide blasts across Pakistan on Thursday, Taliban chief Hakimullah Mehsud threatened to dispatch terrorists to fight India, once an Islamic state had been created in Pakistan.
"We want an Islamic state. If we get that, then we will go to the borders and help fight the Indians," Hakimullah said in footage aired by Britain's Sky News channel.
The channel said it recently acquired the footage of Hakimullah, who has claimed responsibility for several attacks across Pakistan over the past week, including a terrorist assault on the Pakistan army's general headquarters in the garrison city of Rawalpindi over the weekend.
"We are fighting the (Pakistan) military, police and militia because they are following American orders. If they stop following the orders, we will stop fighting them," said Hakimullah, in what was seen as a desperate last-minute effort to stop Pakistan army's offensive into his group's stronghold Waziristan.
Hakimullah was named the new chief of the Tehrik-e-Taliban Pakistan after his predecessor Baitullah Mehsud was killed in a drone attack by the United States in Waziristan in August.
Hakimullah recently met several journalists to dispel reports that he had died during clashes with a rival militant faction.
Sky News also reported that the Pakistani Taliban had bolstered their finances through the sale and manufacture of drugs like heroin. The Taliban were also extorting protection money from businesses in Afghanistan, it reported.