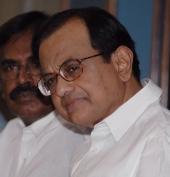 The West Bengal government's decision to swap tribals for the release of an abducted police officer is a decision taken by the state government and only time will tell whether it is right or wrong, Home Minister P Chidambaram said on Saturday.
"They did not seek my advice nor was I required to offer them any advice. They are the best judges of what was required to be done in that situation. They have taken the decision. Whether it is the right one or wrong one, only time will tell," he said.
On the state government's approach to the problem, he said it has learnt a lesson very late. "I do not mean this as a criticism but as a fact," he added.
Chidambaram said both the Communist Party of India - Marxist and the Communist Party of India - Maoists thought they were brothers-in-arms, fighting the bourgeois Congress party or the Trinamool Congress, but now the state government and the CPI-M have recognised that the Maoists are their adversary.
"They have now woken up to the threat of the CPI - Maoists and taken on the challenge. They have had some success. They have had some setbacks. But I treat the West Bengal government like I treat any other state government. If the West Bengal government asks for paramilitary forces to help their police, I am bound to give them whatever assistance we can and that is what I have done," he said.
Meanwhile, the West Bengal government on Saturday said it would make 'all efforts' to secure the release of the two other policemen abducted by Maoists in West Midnapore district.
"All efforts mean all efforts. All channels will be kept open," Chief Secretary Asok Mohan Chakraborty said.
"We will spare no efforts to secure the release of Kanchan Gorai and Sabir Ali Molla. Chief Minister Buddhadeb Bhattacharjee is worried about them. We have information that the Maoists have abducted them but their whereabouts are not known," Chakraborty said.
"We don't know if they are dead or alive. They are our colleagues. We are all worried for them," he added.
Gorai, a sub-inspector and Ali, a constable, were kidnapped when they were returning to their camp at Dharampur on a motorbike on July 30.