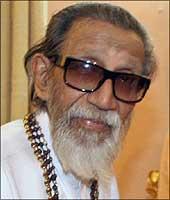 Shiv Sena patriarch Bal Thackeray on Friday attributed the party's poor show in the Maharashtra assembly polls on the young generation's 'ignorance about the travails' the party has gone through for the state.
"The young generation is a stranger to the history of Maharashtra and the Sena's fight for the Marathi cause. They have ruined Marathi unity in just a day," Thackeray rued in an editorial in party mouthpiece Saamna on Friday.
"The 105 martyrs of the Samyukta Maharashtra movement would feel the grief of the Sena's defeat because they know what hardship the Sena has gone through for the Marathi people. Youths are not aware of it," Thackeray said.
Blaming the youth for voting out Sena, Thackeray said, "They do not know the power of the saffron flag and history has been repeated as Marathas also lost the Battle of Panipat due to traitors," he said.
Claiming that the Sena gave 'pride' to Marathi people, Thackeray said the party is following Maratha warrior Chhatrapati Shivaji's legacy and will not give up easily.