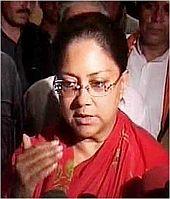 As her parting shot, Vasundhara Raje, who quit as leader of the opposition in Rajasthan, on Friday shot off a controversial letter to all Bharatiya Janata Party Parliamentary Board members accusing the party central leadership of mishandling her resignation issue.
While party president Rajnath Singh said he had only received a 'three-line resignation letter' through an emissary of Raje, the former Rajasthan chief minister said she had written a letter and sent copies to all board members.
Talking to mediapersons after meeting former prime minister Atal Bihari Vajpayee along with her MP-son Dushyant Singh, Raje said, "I have sent the letter to all the eleven members (of Parliamentary Board) because they were the ones who have taken the decision (on her resignation). I have written to them respectfully."
However, she refused to divulge details of the letter, saying, "I have always been a disciplined member of the party and will always remain one.  Whatever happened is something between me and the party." Raje said.
Raje refused to say whether she was forced to resign but in her letter she is understood to have said the manner in which her resignation issue was handled has humiliated her.
Sources said Raje has accused the senior leaders of dealing with her through the media by leaking details of the progress on the issue.