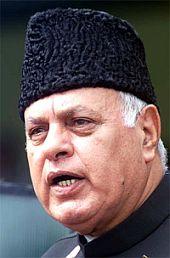 With the government planning to initiate a 'quiet dialogue, quiet diplomacy' to find a political solution to the Kashmir problem, Union minister and former chief minister Farooq Abdullah on Wednesday expressed hope that the process will give results.
"It is going to happen and I think it is going to give results," he told mediapersons in New Delhi on the sidelines of a function of the Committee and National Solidarity Foundation.
Union Home Minister P Chidambaram had recently announced in Srinagar that the government will take up 'quiet dialogue, quiet diplomacy with all shades of political opinion, including some political groups advocating separatism, to find the contours of a political solution in Jammu and Kashmir.'
Commenting on the government's move, the new and renewable energy minister said, "Prime Minister will talk to all the people and I hope all these groups will be kept in mind."
"I think the process has already started and political prisoners have been released. Javed Shah has been released today. I think it will continue and prepare an atmosphere for the dialogue," he added.
On the issue of China issuing separate visas to citizens from Kashmir, he said, "Kabhi kabhi watan ke liya tufan bayan karne padte hain jaise hum bhi kabhi kabhi mutthi dikhate hain (Sometimes they have to create controversy for showing it to their people the way we sometimes adopt aggressive posture)."
But, Abdullah said the government and the armed forces are quite prepared to deal with the situations. On rehabilitation of the 1984 Sikh riot victims, he said government is taking a number of steps for them.