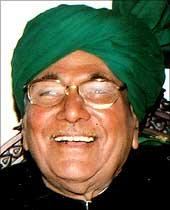 With Haryana facing the prospect of a hung assembly, Indian National Lok Dal chief Om Prakash Chautala on Thursday said that the governor should invite the opposition parties first and give them an opportunity to form the government.
"We appeal to the governor to invite the opposition parties first, which have emerged as the largest group. Chief Minister Bhupinder Singh Hooda should immediately step down on moral grounds and the Congress should not stake its claim to form the government," the former chief minister told reporters.
Citing a precedent, he said, "The Congress was the single largest party during the 1989 Lok Sabha polls, but it did not stake its claim to form the government then."
"The Congress under (late Prime Minister) Rajiv Gandhi did not stake claim then and now also, when they don't have the clear mandate, they should follow Rajiv's footsteps and not stake claim," he said.
Despite the Bharatiya Janata Party snapping ties with it shortly before the polls, Chautala said he still has good friends in that party and would not hesitate to approach them.
"It is not just political relations that I have with the BJP; I have personal relations with Atal Bihari Vajpayee, L K Advani and BJP chief Rajnath Singh. We will talk to the BJP," Chautala said, indicating that he was not averse to seeking the saffron party's support.
The INLD, which has won 32 seats, has greatly improved over its dismal performance in the 2005 assembly elections, when it secured just nine seats.