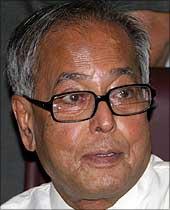 Downplaying the recent war of words with China, India on Wednesday expressed confidence that the boundary dispute would be resolved amicably through dialogue.
These recriminations over the border are "not sudden", Finance Minister Pranab Mukherjee said, pointing that such issues have been cropping up earlier also as China has not accepted the McMohan Line since 1914.
Mukherjee, who held the external affairs ministry portfolio in the previous United Progressive Alliance government, disagreed when it was suggested that China had been "strident" recently, while India's response was being perceived as soft.
"Whenever they make any comment, our response is measured and as it should be. Chinese comments on the prime minister's visit to Arunachal is not for the first time. And even after that comment was made, I visited Arunachal. After returning from there, I said Arunachal is an integral part of India," he said.
On the prospect of resolving the boundary question with China, he said, "I am quite confident that all border disputes will be resolved through discussions, amicably".
On Chinese objections to the visit of Prime Minister Manmohan Singh to Arunachal Pradesh recently to address an election rally, the senior Congress leader said, "The prime minister is the leader of the ruling party, therefore it is quite appropriate that he will go and canvass for his party candidates (during elections)."
"Even earlier when the prime minister went (to Arunachal), they (China) made the same comment. When I first visited Tawang, some of the Chinese newspapers brought out the story that India's foreign minister was visiting Southern Tibet," Mukherjee said, while noting that "Time to time, they have raised this issue (of Arunachal)".
Asked about the reason for sudden "acrimony" between India and China recently over Arunachal Pradesh, he said, "I would say that it is not sudden because 1914 onwards China has never accepted McMohan Line... They have protested then and they protested later."
Making it clear that China has no claim over Arunachal, the finance minister said it was a historical fact the state has been a part of India since colonial times.
After India became a Republic, Arunachal has been sending its elected representatives to the Parliament regularly.
"...Now, everybody has the liberty to make comment. But as far as the international law of standard and practices (goes), we respond the way we should respond and we have responded," he said.
"That is the practice in India. That is the practice in every parliamentary form in any part of the world," the finance minister added.
Image: Finance Minister Pranab Mukherjee