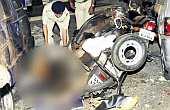 Hindu right-wing outfit Sanatan Sanstha, suspected of being involved in the Diwali eve blast in Goa, might have faced a ban if the Maharashtra government had acted on a proposal forwarded by the Anti-Terrorism Squad last year.
A proposal to ban the Sanstha is pending with the Maharashtra government since last year, a top ATS officer said on Tuesday.
After a blast at Gadkari Rangayatan (theatre) in Thane in June 2008, investigations had pointed fingers at the Sanstha and the then ATS chief Hemant Karkare had sent a proposal to the state home ministry seeking ban on the organisation.
"The ATS had forwarded the proposal to the government but I am not aware of its status," said ATS chief K P Raghuvanshi.
Karkare had forwarded the proposal some time before he was gunned down by terrorists in 26/11 terror attacks.

To proscribe an organisation, the state government has to forward its proposal to the centre, which takes a call after considering the recommendations. This had not been done, official sources said.
On June 4, 2008, there was a blast in the basement parking of Gadkari Rangayatan in Thane where Marathi play Amhi Pachpute was being staged. Probe revealed that members of the Sanstha had threatened the playwright not to stage the play, which was a satire on Mahabharat.
Around the same time there were two minor blasts in theatres at Panvel and Vashi in Navi Mumbai where Hindi film Jodha Akbar was being screened. Investigations linked these blasts to Sanstha members.
Regarding the blast in Goa, ATS chief Raghuvanshi said, "Our team has gone to Goa but we are yet to receive feedback from them".

The purpose of sending the team is three-fold. First, the ATS has to update its data bank. Secondly, the blast has occurred in an adjacent state and ATS needs to find out if there were similarities with explosions that have occurred in Maharashtra earlier. And finally, ATS has to cooperate with Goa police as some names from Maharashtra have figured in the probe, he said.
Raghuvanshi said that with the death of Yogesh Naik, the critically injured suspect in the October 16 blast, on Tuesday morning, the police had lost an opportunity to examine him.

"The police was waiting to hear from him about the blast. Had he survived he might have made the task of police easier," Raghuvanshi said.