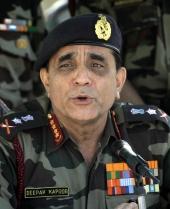 Chief of Army Staff General Deepak Kapoor on Monday said that India would give a befitting reply to the Taliban if they indulge in sabotage in the country.
"I would just like to say that what the Taliban has done in Pakistan is their internal issue. As far as we are concerned, we don't have any doubt that if the Taliban indulges in sabotage in our country, we will give them a befitting reply," said General Kapoor.
He admitted that whenever there is turbulence in any particular region, there is bound to be some spillover effect.
"What we would like is that there is a degree of peace and stability in our neighbouring countries including Pakistan. But whenever there is turbulence in any particular region, there is always some spillover effect in the neighbouring countries; that is something we all need to guard against," said General Kapoor.
Earlier in the day, Defence Minister A K Antony said that India is prepared to battle the Taliban or any other extremist-related threat from any other quarter.
This statement came after Pakistani Taliban chief Hakimullah Mehsud threatened to dispatch terrorists to fight India once an Islamic state was created in Pakistan.
In a footage aired by Britain's Sky News channel, Hakimullah said, "We want an Islamic state. If we get that, then we will go to the borders and help fight the Indians."