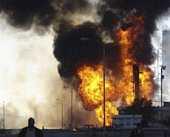 The death toll in the cracker godown fire in Pallipat, Tamil Nadu, mounted to 32 on Saturday with two more bodies being pulled out of the building.
Besides, 10 others were injured when the fire swept through the cracker godown, 90km from Chennai, on Friday night.
At least 32 badly charred bodies have been pulled out of the godown, which was a wholesale point of firecrackers, Tiruvallur District Collector Palani Kumar told media persons.
He said 23 people -- 20 from Andhra Pradesh and three from Tamil Nadu -- have complained to the tehsildar office that their loved ones are missing since Friday.
Rescue operations were on to see if there were any other charred bodies stuck in the burnt godown, police sources said.

Majority of the victims are believed to be from Chitoor district in Andhra Pradesh.
Meanwhile, two persons have been arrested in this connection, police said.
The cause of the fire has yet to be ascertained and senior police officers are supervising the operations, they said.
The bodies have been taken to the government hospital in Tiruttani, police said, adding the toll was higher due to heavy rush on Diwali eve.
Operations to retrieve the bodies were hampered due to the absence of electricity following power failure in the area after the incident.