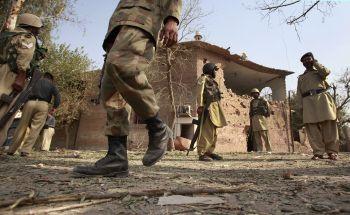 The Taliban has recruited a new, unsuspected lot as suicide bombers: women in burqas.
In a civilisation where women have always been protected and hidden behind head-to-toe black veils, the new cadre of women suicide bombers has baffled investigators.
In the Friday's blast at the Central Investigation Agency in Peshawar, where 14 people were killed, eyewitnesses said it was a woman clad in burqa who first paved the way for terrorists.
According to locals, a couple riding on a motorbike had approached the police station. When the guards tried to stop them, the burqa-clad woman detonated herself, followed by an exchange of firing between the security forces and the biker. Soon, another man appeared in an explosive-laden car and collided with the building resulting in a bigger explosion.
Investigators said women terrorists were also a part of the Lahore attacks on October 15.
The faceless, seemingly coy suicide bombers, have been long associated with the Taliban. On December 4, 2007, a female suicide bomber missed her target, a military post, and blew herself up near Christian School in Peshawar. Though no damage was done, it was the first known case of woman-led suicide bomb attack in Pakistan.
Dr Rizwan Taaj, a psychiatrist at Pakistan Institute of Medical Sciences, told rediff.com, "Women, especially those illiterate, can be easily brainwashed in the name of religion. Just like teenagers (boys), it is very easy to exploit women and use them as suicide bombers."
Taaj said a woman could be compelled for such missions if she was threatened that her children would be killed.
"Money is another factor that could attract a female towards the suicide attack," he added.
It may be surprising to know that Pakistani women, not men, who were first influenced when Maulana Fazlullah, popularly known as Mullah Radio, the head of Tehrik-e-Taliban Pakistan's Swat chapter, launched his illegal FM channel in the valley.
Women listeners in the tribal belt first covered their faces, destroyed the television sets in their houses, and also forced their men to sport beards and stopped them from smoking and inhaling snuff – considered un-Islamic.
It is said that in 2007, many women were so influenced by Mullah Radio's talks that they wrote him letters, pleading to be taken in as suicide bombers.
Mullah Radio replied to listeners over his channel saying, "Thanks for your kind offers; at the moment a number of men are waiting for their turn, so there is no need to try a woman. Surely the girls will be given opportunities if needed."
Later, when the police came to arrest Mullah Radio, the local women came to the streets and set a police vehicle on fire – an unprecedented incident in Pashtoon society.
Tribeswomen in Swat have played a crucial role in supporting militancy in the tribal built. They had also reportedly helped Mullah Radio in constructing the Taliban headquarters in the Malakand division.
Pakistani defence analyst Dr Ayesh Sidiqa told rediff.com, "It is not strange that women are being used as suicide bombers, as the Taliban has trained a lot of women for this purpose. Such bombers are valuable assets for the Taliban. Women bombers can easily hit the targets anywhere in the country. 
"Also, it is very difficult to check a woman. Customs and traditions prevent the policemen from frisking a woman. Besides, there are very few women in the police in Pakistan," she added.
Image: Security forces at the suicide bomb attack site in Peshawar | Photograph: Fayaz Aziz/ Reuters