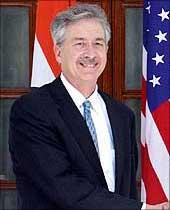 Seeking to allay India's concerns on its $7.5 billion assistance to Pakistan, the United States on Friday said the law enacted for the purpose has 'conditions attached' to ensure that the money is used only for development.
"We made very clear that there were conditions attached to this legislation," US Undersecretary of State William Burns said when asked about the US law that triples development aid to Pakistan.
"In this case, for development in Pakistan, we are very much focused in ensuring that the money is used for the purpose it is intended and there are measures built in to ensure that takes place," he told reporters.
US President Barack Obama had on Thursday signed into law the Enhanced Partnership with Pakistan Act of 2009 -- popularly known as the Kerry-Lugar Bill -- which will provide $7.5 billion aid to Pakistan in the next five years.
India had voiced concerns over the development aid being diverted by Pakistan to support operations against it.
"India's concern is only that aid has to be appropriated for the purpose for which it is provided by the United States," External Affairs Minister S M Krishna had said.
The spate of terror attacks in Pakistan, Burns said, underscored the need for support to the leadership in Islamabad to tackle 'firmly and vigorously' the challenge posed by extremists.
Expressing concern on the situation in Afghanistan and the rising violence in Pakistan, Burns said, "It simply underscores the importance of our collective efforts to support Afghan authorities in the fight against violent extremists, who have in the past done great damage to many of us, and who threaten all of us in the future.
"The same is true with regard to the support we provide to the Pakistani leadership to take on firmly and vigorously the challenge posed by violent extremists inside Pakistan," he said.
Terming the civil nuclear agreement between the two countries as an 'historic step', Burns said the Barack Obama administration was firmly committed to its implementation and there should be no apprehensions in this regard.
"The Obama administration remains firmly committed to the implementation of the civil nuclear agreement. We believe it is an historic step which benefits both of our countries," he said. He was replying to a question on whether the new US policy on the Nuclear Non-Proliferation Treaty would affect the Indo-US nuclear deal.
He noted that Prime Minister Manmohan Singh had declared his support for the broad objectives laid out by President Obama in his speech in Prague earlier this year.