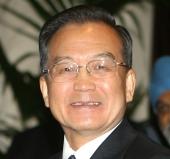 In the midst of a war of words between the two countries, Chinese Premier Wen Jiabao on Wednesday expressed his desire to meet his Indian counterpart Manmohan Singh, on the sidelines of the Association of Southeast Asian Nations summit in Thailand next week.
Premier Wen conveyed his wish during a meeting with Petroleum Minister Murli Deora, who was on a visit to Beijing to attend a Shanghai Cooperation Organisation meet, sources said.
The Chinese leader's remarks come a day after Beijing raked up its claim over Arunachal Pradesh, questioning Prime Minister Singh's visit there on October 3. India hit back on Wednesday, reacting strongly to Chinese plans to get involved in projects in Pakistan-occupied-Kashmir.
New Delhi has maintained that Arunachal Pradesh is an integral part of India and the prime minister has a right and responsibility to visit the state. In a strongly-worded statement, it also asked China to cease from activities in PoK taking a 'long-term view' of Sino-India relations.
During the meeting with Wen, Deora put up India's case for participating in the SCO's Tashkent-based Regional Counter-Terrorism Structure, along with the six-nation security grouping's full members.
India, along with Pakistan, Iran and Mongolia has an observer status in the SCO, which comprises China, Kazakhstan, Kyrgyzstan, Russia, Tajikistan and Uzbekistan.