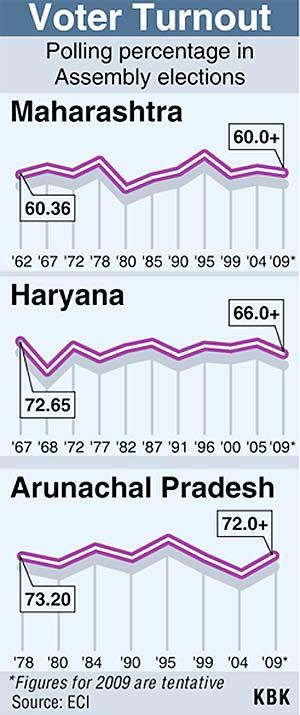 An estimated 66 per cent of the electorate on Tuesday exercised their franchise in assembly elections in Maharashtra, Haryana and Arunachal Pradesh amidst sporadic violence in which one polling agent was killed.
Maharashtra registered 60 per cent turnout of voters while Haryana and Arunachal Pradesh saw a much higher polling of 66 per cent and 72 per cent respectively, Chief Election Commissioner Navin Chawla told mediapersons in New Delhi.
Mumbai, the country's financial hub, and its suburbs saw a turnout of 50 per cent. A 48-year-old polling agent of an independent candidate was killed in a clash with supporters of a Congress nominee in Gulha assembly constituency in Haryana's Kaithal district, a police official said.
Notwithstanding the massacre of 17 policemen five days ago and poll boycott call by Naxals in Gadchiroli district of Maharashtra, an estimated 55 per cent of electorate cast votes while neighbouring Gondia, also hit by Maoist menace, gave a stronger rebuff to the ultra-Left with a 68 per cent turnout.
Stray incidents of firing were seen in Gadchiroli district where polling could not take place at 22 polling station as the staff failed to reach the destinations because naxals put up obstacles, District returning officer Atul Patne told reporters, said a report from Nagpur.
A total of six incidents of Naxalites opening fire were reported today. In the first incident, a group of naxals opened fire in Kasansur in Ahri Taluka but the police did not retaliate as part of a strategy. In the second incident, Naxals fired a few rounds aimed at polling station at Bonde in Korchi Taluka.
A chopper was immediately pressed into service to send additional police force there, Additional S P Gadchiorli, Manoj Sharma, said. In an another incident, Naxals fired in Kawatha in Kurkheda Taluka but none of the security personnel was hurt in any of the incident.
Over 1.29 lakh state police and central forces were deployed across Maharashtra where voting is being held for 288 assembly seats. Among the early voters in Maharashtra were Union Ministers Sharad Pawar and Vilasrao Deshmukh, industrialist Anil Ambani, Shiv Sena chief Bal Thackeray and cricketer Sachin Tendulkar.
Sporadic incidents of violence, bogus voting and violation of code of conduct were reported on Tuesday from some parts of Mumbai during the assembly polls which was by and large peaceful, police said.
An FIR was registered against Congress MLA Janardhan Chandurkar for allegedly violating model code of conduct by trying to distribute money to lure voters at Bharat Nagar in suburban Bandra, police said, adding that Rs 15,000 have been recovered from his car.
A case of bogus voting was reported in Santacruz. In suburban Ghatkopar, Maharashtra Navnirman Sena workers allegedly manhandled police after an EVM developed snag. In yet another incident in Ghatkopar, Ram Kadam, an Independent candidate, sent an SMS to voters saying his symbol was 'Rail Engine' and not 'Road Roller'. MNS candidate with a similar name was in the fray with symbol 'Rail Engine'. Kadam had allegedly violated code of conduct, police said adding that FIR had been registered against him.
Bollywood celebrities including Amitabh Bachchan, Shah Rukh Khan, Salman Khan, Priyanka Chopra and Gulzar turned out in full force to vote in the Maharashtra Assembly polls and sent a message--election is a tool of change and don't waste your ballot.
The stars that also included Aamir Khan, Sanjay Dutt and John Abraham came out in droves from their airconditioned homes to wait in queue patiently for their turn to vote. They hoped that the winning parties deliver all that is promised. Film star John Abraham, lyricist Javed Akhtar and his actress wife Shabana Azmi were among the early voters.
An estimated 70 per cent of the electorate today cast their votes peacefully in the election to 57 of the 60-seats in the Arunachal Pradesh assembly. Chief Minister Dorjee Khandu and two other Congress candidates have already been elected unopposed from the three seats in Tawang district.
"Around 70 per cent turnout was recorded but the final percentage will be available when reports from remote areas reach here, which might take a day or two," Chief Electoral Officer Yeshi Tsering said.
The percentage in the 2004 assembly elections had been 67.83. The elections were peaceful save for reports of disturbance and damage to EVMs from four booths -- two in Ziro-Hapoli and one in Chayang-Tojo and another at Palin, he said. A report would be sent to the Election Commission which might order repolling, he said.
Text: PTI   Graphic: KBK