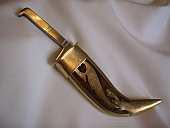 A bill to educate law enforcement officers about the religious significance of 'kirpans' has been vetoed by California Governor Arnold Schwarzenegger, who found it 'unnecessary', drawing angry reaction from the Sikh community in the United States.
The decision came as a shock to the organisations, individuals and lawmakers who supported the bill.

The veto was particularly surprising given bipartisan votes in favour of the bill in both houses of legislature, advocacy group Sikh Coalition said in a statement.
The bill was passed unanimously in both Houses, by 77-0 in the Assembly and by 36-0 in the Senate.
"This loss for the Sikh community is a reminder of our serious lack of political clout in this state. After months of hard work and 100 per cent support from our lawmakers, the Sikh voice was still not strong enough to overcome the whim of one man," said Prabhjot Singh, Sikh Coalition Board chairman.
Assembly member Warren Furutani introduced the Bill AB 504 in February 2009. It sought to use education to help stem the arrests of Sikhs for carrying kirpans in California.
Over the last few years, there has been an increase in the arrests of Sikhs nationwide for carrying kirpans in the absence of an understanding among law enforcers.
Police mistakenly believe them to be in violation of concealed weapons laws, the Sikh Coalition said.

"AB 504 was our first attempt to change this," the statement said.
Though the bill did not touch the legality of the kirpan, it said police officers be trained about who Sikhs are and learn about the significance of the kirpan, hoping that religious understanding would decrease arrests.

The Governor decided to veto the bill as 'unnecessary' though it was endorsed by the Los Angeles County Sheriff's Department and several religious and civil rights groups.

"We suspect that the final veto was the result of law enforcement's strong desire to avoid promoting the acceptance of Sikhs with kirpans," the coalition said.
"The Governor's response is very disappointing. It shows his lack of support for promoting religious understanding in California," said Neha Singh, Western Region Director of the Sikh Coalition.