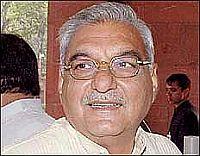 Haryana goes to polls on Tuesday with ruling Congress making all out efforts to retain power and in the process break a jinx of three decades during which no incumbent government succeeded in returning to power.
Congress, which is contesting all the 90 assembly seats, had won the first three state assembly polls in the state in 1967, 1968 and 1972. The party is aiming to retain power this time though no ruling party could get a second term since 1977.
The Bhupinder Singh Hooda government had got the assembly polls advanced by seven months hoping to cash in on its popularity as reflected in May Lok Sabha polls when it bagged nine out of ten seats in the state.
In the last assembly polls in 2005, Congress had stormed to power winning 67 seats, while in the parliamentary polls this year the party led in 59 assembly segments.
With the opposition in tatters after the Bharatiya Janata Party and the Indian National Lok Dal parted ways and parties like Haryana Janhit Congress and Bahujan Samaj Party going it alone, the Congress camp is optimistic of a facile victory in view of the multi-cornered contest in all seats.
The Congress is banking on development projects initiated by the state and the Central governments while its opponents are alleging that the benefits of welfare schemes have reached only a few.
The stakes are high for Om Prakash Chautala-led INLD, which won just nine seats in 2005 assembly polls, and bit the dust in the last Lok Sabha elections.
Chautala, a five-time chief minister, who lost power in 2005, is contesting from two seats -- Ellenabad in Sirsa and Uchana Kalan in Jind.
The BJP, which had just one MLA in the dissolved assembly, is desperately looking to improve its tally and hopes to play a key role in the formation of the next government in the state.
The BSP, which too had a lone legislator in the previous House, is looking to dent Congress votebank in few pockets.
The HJC, floated three years back, is also looking for a foothold in state politics.
Though former Chief Minister and HJC chief patron Bhajan Lal is not contesting, his wife Jasma Devi and son Kuldeep Bishnoi are in the fray.
Shiromani Akali Dal led by Punjab's Deputy Chief Minister Sukhbir Singh Badal is testing its popularity in the state for the first time with the party contesting two seats while supporting INLD on remaining 88 seats.
Prominent among those whose fortunes will be decided by 1.31 crore voters, include Chief Minister Hooda, his ministerial colleagues including Birender Singh, Kiran Choudhry and Randeep Singh Surjewala, INLD chief Om Praksh Chautala and his son Ajay Chautala, state Congress president Phool Chand Mullana, state BJP chief Krishan Pal Gujjar, HJC (BL) chief Kuldeep Bishnoi and state BSP chief Prakash Bharti.
Image: Haryana Chief Minister Bhupinder Singh Hooda