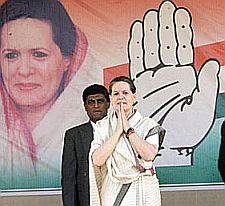 United Progressive Alliance chairperson Sonia Gandhi on Sunday said that while the Congress ensured equitable and uniform development in all areas, the National Democratic Alliance rule was biased against states ruled by her party.
In her 13-minute address to an election rally in Jhajjar on the last day of campaigning in poll-bound Haryana, Sonia said that while the Bharatiya Janata Party discriminated against the Congress-ruled states, the UPA government at the Centre and the Congress government in Haryana ensured a uniform development.
"During the BJP-led NDA rule, there had been drought in Rajasthan while some other states were affected by flood, but they never helped the states where Congress was in power," Sonia said.
"They (NDA) used to provide all help to their own people, but never helped us. We never discriminated against any area," she added.
Noting that the budget in Haryana has witnessed a five-time increase under Chief Minister Bhupinder Singh Hooda (from Rs 2300 crore during Indian National Lok Dal-BJP rule to over Rs 11,000 crore now), Sonia claimed that people across the state have gained from it unlike in the past when only a particular area or only selected few people reaped the benefits.
The Congress president earlier addressed a rally at Nuh in Mewat district, which has a sizable Muslim population, on the last day of campaigning for the October 13 polls in Haryana.
Highlighting the steps taken by her party for the welfare of farmers, minorities and other weaker sections, Sonia said, the Hooda government had initiated several development schemes, including setting up of Mewat Development Board and Rs 425 crore Rajiv Gandhi drinking water scheme.
"When you look back, do you remember any step which the INLD-BJP (when INLD-BJP combine was in power) took for the welfare of the farmers, minorities, ruralites and women," she asked the gathering in Nuh. Sonia said that the Congress believes that till the time weaker sections are not part of the development, it cannot be complete.
"We have to connect these sections and the minorities with mainstream development," she said in her ten-minute speech in Nuh.
In Jhajjar, Sonia talked about how green revolution had been made possible due to the leadership and vision of late prime minister Indira Gandhi and with the efforts and hard work put in by the farmers.
Wooing farmers in the agrarian state, Sonia said, "We waived off Rs 71,000 crore loans of farmers, effected record hike in Minimum Support Price of crops and set up a Rs 25,000 crore Agriculture Development Fund."