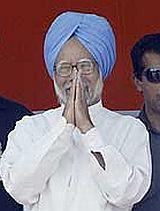 Prime Minister Dr Manmohan Singh on Monday said that India is keen to bring peace and harmony with Pakistan.
Singh stated this in a message to 'Pakistan-India Friendship Forum, UK' on the occasion of the Eid and Diwali celebrations at the C and L Country Club this weekend.
Pakistan Premier Yousuf Raza Gilani, in his message to the Forum Chairman Rajan Sehgal, said that his country will continue efforts to bring the people of two sides closer.
He said people of both sides should realise the global changes taking place around them. "We must prove the entire world that we are no more 'Third World' countries," Gilani said.
Barry Gardiner, MP, Chairman, Labour Friends of India and Patron of the Forum, appreciated efforts of the forum to bring people of the two countries closer.
Sehgal, on his part, said people of the two countries have a great deal in common and they want peace in the region.