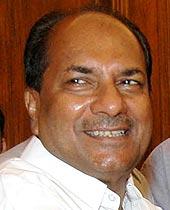 India on Saturday asked Pakistan to be "sincere" in acting against terror groups on its soil in its own interest and "not to satisfy India".
Defence Minister A K Antony told media persons in New Delhi on the sidelines of an international flight safety conference that Pakistan "has to contain" terrorists operating from its soil.
"India has always been saying that unless they (Pakistanis) act sincerely (against terrorists), there is no solution. Still, they are not sincere. That is the problem," Antony said.
The defence minister was reacting to media persons' queries on the suspected role of Pakistan's Inter-Services Intelligence agency in the terror attack on Indian embassy in Afghanistan's capital Kabul a couple of days ago.
India, he said, had already taken up the matter "seriously" through the normal channels.
On today's terror attack on Pakistan Army headquarters in Rawalpindi, Antony said, "This again shows that Pakistan should take determined and strong action against terrorists."
He added, "It is not to satisfy India, but it is in their own interest. They (Pakistanis) have to contain and take strong action against terrorists operating from their country."
Image: Union Defence Minister A K Antony