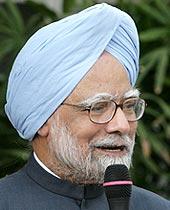 Prime Minister Dr Manmohan Singh on Saturday announced an Rs 1,000 crore (Rs 10 billion)interim grant for flood victims in Karnataka, calling the floods a "natural calamity".
The PM, who had come in for severe criticism by the Karnataka government earlier for not granting funds earlier, made the announcement at Raichur in Karnataka on Saturday.
Dr Singh landed in Raichur, Karnataka, on Saturday morning from Hyderabad, before which he conducted an aerial survey of the flood-hit villages especially in north Karnataka.
After the survey, the prime minister held discussions with various officials about the situation.
He also held a meeting with Karnataka Chief Minister B S Yeddyurappa and reviewed the relief fund rehabilitation.
The PM added that he would hold further discussions with state officials to decide if the state needed more funds.
Dr Singh had on Friday visited the flood-hit regions in Andhra Pradesh and declared a grant of Rs 1,000 crore for the state.
B S Yeddyurappa, welcoming the relief fund, said the state would require an additional grant of Rs 2,000 crore in the next few days. He is scheduled to approach the Centre after a few days in this regard.
Yeddyurappa said the families of the deceased would get Rs 1 lakh as compensation and those who had suffered loses in crop will also be compensated.
Meanwhile, senior Bharatiya Janata Party leader Venkaiah Naidu told media persons in Bangalore that Karnataka needed Rs 5,000 crore to deal with the calamity.
He also criticised the prime minister for delaying his visit to Karnataka and said the Centre meted out a "step-motherly treatment" to Karnataka as it was run by a BJP government.
Image: Prime Minister Manmohan Singh