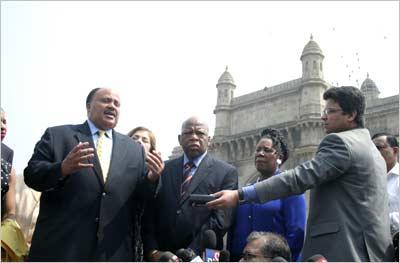 Aziz Haniffa reports on an unusual event in Washington, DC.
United States Congressman John Lewis, an icon of America's civil rights movement and a close friend of the late Dr Martin Luther King, Jr, declared on Wednesday that "I surely believe without (Mahatma) Gandhi -- without Gandhi in India -- there would be no Barack Obama as President."
Speaking at a reception and an awards ceremony on Capitol Hill in Washington, DC, celebrating the partnership between the Indian-American, Jewish-American and African-American communities and commemorating the 50th anniversary of Dr King and his wife Coretta Scott King's visit to India, said, "There is a trend, there is a strain, there is what I call the spirit of history, and every now and then in the history of humankind, that spirit strikes down some embodiment of change -- some force."
"I think it was the Englishman Arnold Toynbee who had suggested that it may be in the end, the American Negro who would take the message of Gandhi to the Western world," Lewis, who marched with Dr King in Selma, Alabama, in the 1960s and got his skull cracked open by beatings administered by racist policemen, said.
Lewis, who was one of the awardees at the event co-hosted by the American-Jewish Committee, the National Association for the Advancement of Coloured Peoples, the American Association of Physicians of Indian Origin and the newly minted US-Asian Organisation, said, "Martin Luther King, Jr, became the embodiment and we followed him."
"We were arrested, I got arrested 40 times, jailed and beaten and left bloody and unconscious, (but) we said, if Gandhi can do it, Martin Luther King, Jr, can do it, and be non-violent, be peaceful, we can do it too to change America."
"And we changed America and in doing so, along with Gandhi and (Nelson) Mandela," Lewis added, "we have changed the world. We live in a better world, a better place."
Last February, after returning from leading a delegation that retraced Martin Luther King's journey to India half-a-century ago, Lewis had told rediff.com that "as I said there in India as we traveled, if it hadn't been for Gandhi, hadn't been for Martin Luther King, Jr, there would be no Barack Obama."
"The teachings of Gandhi, the philosophy of passive resistance and nonviolence, and also taught by Martin Luther King, Jr, inspired hundreds and thousands and millions of citizens in America, and helped to free and liberate not just a people, but a nation," he said.
Lewis said at the time he found it extremely "gratifying, really to go and travel abroad and go to New Delhi and Mumbai and other parts of India, and see people who are still adhering to the philosophy and to the discipline of nonviolence, the message of passive resistance, the message of peace, the message of love, the message of nonviolence."
The lawmaker said many of the people in India that the delegation came in contact with, "the young people, people in government, really admire what Dr King did here (in the United States after being inspired by Gandhi), and they are very hopeful about the new President and his administration."
Lewis told the standing room audience of Indian, Jewish and African Americans, that following his visit to India, "my life will never ever be the same. I want to go back and I want to go back very soon."
He recalled how as a "young child, I tasted the bitter fruits of segregation and racial discrimination".
Lewis said after listening to Dr King on the radio for the first time, "I was deeply inspired," and after meeting him in 1958, he had started studying the philosophy of non-violence, "studying what Gandhi was all about in South Africa, what he accomplished in India," because he had inspired Martin Luther King.
"Gandhi along with Martin Luther King, Jr, taught us that you must find a way to get in the way. And with our ideas of philosophy, with techniques and tactics, and with a way of life, we could change things."
Lewis said he always remembered the words of Gandhi who had said, "'It is non-violence or non-existence' and Dr King had said, 'We must learn to live together as brothers and sisters or we will perish as fools'."
The much-admired and much-respected lawmaker said, "we are one people, we are one family, we are one house. Call the House of South Africa, call it the House of India, call it the American House. We are one house, we are one family, we are one people."
"We must continue to work and build together to create that sense of one family, that sense of one people," he exhorted. "We must continue to do what Dr King and Gandhi preached. We must never ever give up, we must never ever give in. We must keep our faith and keep our eyes on the prize."
Earlier, US Congressman Jim McDermott, who is co-chair of the Congressional Caucus on India and Indian Americans, also recalling the trip he took to India with Lewis, Martin Luther King, 3rd (the late civil rights leader's oldest son), former US Senator Harris Wofford and Andrew Young, former Atlanta mayor and US ambassador to the United Nations in the Carter administration, who had also marched with Dr King, said, "it was a remarkable trip."
He recalled how Dr King had said, "'I go to India not as a tourist, but as a pilgrim.' And, that's really the nature of the trip that he took."
Dr McDermott, who holds the record in Congress for the most number of trips to India --22 and counting -- said Gandhi and Dr King "moved billions of people to see what was right and just and to change their nations and our world."
"They aspired not to greatness -- neither of them held a political office, nobody ever called them Honourable. They aspired to something else -- that was really to change the world -- and they succeeded paying with their lives, so that others would be better off."
"The wisdom and the teachings of one inspired the wisdom and teachings of the other and together," Dr McDermott said, "they crushed tall mountains of intolerance and injustice into fine sand along the shore of equality and righteousness."
"It's hard to imagine how one trip, a half-a-century ago, would have unleashed the power to change the world forever -- but it did -- and it left a marker on history that should inspire us to use their wisdom and to continue their journey on the road to peace."
"Gandhi said, 'Your must be the change you want to see in the world,' and that's truly what should drive all of us," Dr McDermott added.
Indian Ambassador Meera Shankar said the historic visit of the Kings 50 years ago and the 50th anniversary journey "that Congressman Lewis led in February this year remind us of the values and ideals that bond our two great democracies and also our struggles and our triumphs."
She lauded Lewis's proposal in the US Congress "to set up a Gandhi-King scholarly exchange initiative focusing on peace and non-violence and global conflict resolution."
The Gandhi-King Scholarly Exchange Initiative Act of 2009, which Lewis introduced on July 24, is currently pending before the House Foreign Affairs Committee. It authorises the secretary of state to develop three international exchange programmes:
Undergraduate and postgraduate student exchange programmes that apply the philosophies of Mahatma Gandhi and Dr Martin Luther King Jr to current issues like human rights, peaceful conflict resolution, civil rights and democracy.
A professional training initiative for government employees to develop international conflict solutions based on Gandhian principles.
An annual public diplomacy forum to be held alternately in the US and India, which will focus on the philosophies of Mahatma Gandhi and Martin Luther King, Jr in the resolution of global issues.
Image: US Congressman John Lewis, fourth from right, with his wife Lillian Miles, third from right, and Martin Luther King 3rd, second from left, at the Gateway of India in February. Photograph: Dominic Xavier.