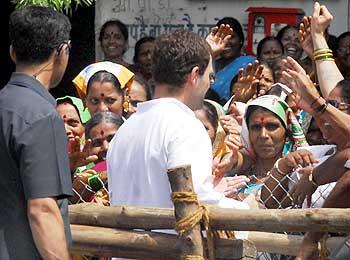 Noting that there were two 'Indias', Congress leader Rahul Gandhi stressed on the need to connect the 'Shining India' and 'Backward India'.

"Two Indias exist today. One is the 'Shining India' and the other is the 'Backward India'. There is a need to connect the two Indias," Gandhi said, addressing his first poll campaign meeting in Maharashtra.
"There are two ideologies in these elections. One is the ideology of Congress, the 'aam admi' (common man). The other is that of the Opposition, the proponents of 'India Shining', which is the ideology of a select few," he said, at a public rally held in coastal Raigad district.
Describing NREGA as an important achievement of the UPA regime, Gandhi said, "When we started the National Rural Employment Guarantee Scheme, Opposition ridiculed us, saying the money would go waste."

Image: Rahul mingles with people during his first election campign in Maharashtra