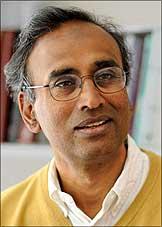 A delighted Nobel laureate Venkatraman Ramakrishnan on Wednesday said he was deeply indebted to his associates, students and researchers in his Cambridge-based laboratory for the path-breaking work he has conducted in the area of ribosomes.
Ramakrishnan, 'Venky' to his friends and family, is a senior researcher at the MRC Laboratory of Molecular Biology, which has conducted pioneering research over the years.
"I have to say that I am deeply indebted to all of the brilliant associates, students and post docs who worked in my lab as science is a highly collaborative enterprise," the 57-year old said, soon after being told of the Nobel accolade.
"The MRC Laboratory of Molecular Biology and the University of Utah supported this work and the collegiate atmosphere there made it all possible. The idea of supporting long term basic research like that at LMB does lead to breakthroughs, the ribosome is already starting to show its medical importance," he said.
Ramakrishnan shares the 2009 Nobel Prize for Chemistry with Thomas A Steitz of Yale University and Ada E Yonath of the Weizmann Institute of Science in Israel.
Sir Leszek Borysiewicz, chief executive of the Medical Research Council, said: "We are absolutely delighted that Dr Ramakrishnan's work has been recognised with the 2009 Nobel Prize for Chemistry. Venky's award is the Medical Research Council's 29th Nobel Prize and is a reflection of the excellent work that our scientists do."
"The MRC is committed to long-term support of the difficult areas of basic science as exemplified by Venky's success. It is only on the back of such discoveries that we can continue to drive translation into benefits for human health," Borysiewicz said.
Ramakrishnan's work on ribosomes has been widely hailed. Ribosomes produce proteins, which in turn control the chemistry in all living organisms. The ribosome is found in all living cells, including those of bacteria.
Human and bacterial ribosomes are slightly different, making the ribosome a good target for antibiotic therapy that works by blocking the bacterium's ability to make the proteins it needs to function.