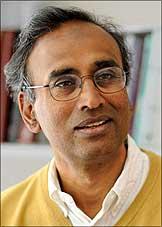 Indian-American Venkatraman Ramakrishnan, Thomas Steitz from United States and Ada Yonath of Israel won the 2009 Nobel Prize for Chemistry for their pioneering work on the ribosomes, which may help develop new medicines in decreasing the sufferings of the humanity.
The Royal Swedish Academy of Sciences said the three scientists' work on ribosomes has been fundamental to the scientific understanding of life and has helped researchers develop antibiotics.
This year's three laureates, who will share $1.4 million award, generated three-dimensional models that show how different antibiotics bind to ribosomes.
"These models are now used by scientists in order to develop new antibiotics, directly assisting the saving of lives and decreasing humanity's suffering," the academy said in its citation.
"This year's Nobel Prize in Chemistry awards Venkatraman Ramakrishnan, Thomas A Steitz and Ada E Yonath for having showed what the ribosome looks like and how it functions at the atomic level," it said.
Hours after the announcement, an elated Tamil Nadu-born Ramakrishnan, the seventh Indian or of Indian origin to get the award, said: "I have to say that I am deeply indebted to all of the brilliant associates, students and post docs who worked in my lab as science is a highly collaborative enterprise."

"The MRC Laboratory of Molecular Biology and the University of Utah supported this work and the collegiate atmosphere there made it all possible," Ramakrishnan said.

"The idea of supporting long term basic research like that at LMB does lead to breakthroughs, the ribosome is already starting to show its medical importance," he said.
The Academy, in its citation, said all three have used a method called X-ray crystallography to map the position for each and every one of the hundreds of thousands of atoms that make up the ribosome.

"This year's three Laureates have all generated 3D models that show how different antibiotics bind to the ribosome," it said.
57-year-old Ramakrishnan, is the senior scientist and group leader at the Structural Studies Division of the MRC Laboratory of Molecular Biology in Cambridge, England.
Steitz, a 69-year-old, is a professor of molecular biophysics and biochemistry at Yale University.

Yonath is a professor of structural biology at the Weizmann Institute of Science in Rehovot, Israel, and the ninth Israeli to win a Nobel Prize.
She told Israel Radio she didn't think her gender played a role in the decision. "It's true that a woman hasn't won since 1964. But I don't know what that means does it mean that I'm the best woman since then? I don't think that gender played a role here."
Each prize comes with a $1.4 million purse, a diploma, a gold medal and an invitation to the prize ceremony in Stockholm on December 10.