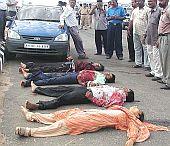 The Supreme Court on Tuesday sought response from the Gujarat government on a petition filed by mother of Ishrat Jahan, who was killed in an alleged encounter, challenging the high court's order staying a judicial probe report which had described the incident as a "cold blooded" murder.
The apex court also issued notice to the Centre on Jahan's mother, Shamima Kaushar's plea seeking vacation of the Gujarat High Court order granting stay on the report of Judicial Magistrate S P Tamang.
A bench comprising Justices B N Agrawal and Aftab Alam sought the reply within four weeks on the contention that the high court had wrongly entertained the petition of the Gujarat government in the pending matter in which Kaushar had sought transfer of the investigation of the case to CBI.
The bench also sought a response from the CBI as has been made party in the petition filed before the Gujarat HC.
Though the matter was listed for hearing on October 19, the petitioner's advocate Kamini Jaiswal mentioned the matter for urgent hearing before the bench, seeking for issuance of notice by narrating the sequence of events leading to Ishrat's killing by Gujarat police.
Ishrat's family contended that the Tamang report could not be stayed as the Magistrate had conducted the inquiry on the order of the Chief Judicial Magistrate in Ahmedabad.
They have also sought summoning of the records of the Tamang report to the apex court.
The Gujarat High Court had on September 9 stayed Tamang's report on a plea by the Narendra Modi government, which contended that the observations made in the report were beyond the jurisdiction of the magistrate.
A single judge bench of Justice Kalpesh Javheri, while staying the report, had also ordered the appropriate authority of the high court to look into the actions of Tamang and take necessary steps.
Tamang's report had said the encounter in which 19-year-old Ishrat and three others were gunned down in 2004 while allegedly plotting to kill Chief Minister Modi was fake and executed in cold blood by police officers for selfish motives.
The report of the investigation conducted by the magistrate had held senior police officers responsible for "staging" the encounter.
The four persons, claimed to have been killed by the police in an encounter on the outskirts of Ahmedabad on June 15, 2004 were Ishrat, Javed Ghulam Sheikh alias Pranesh Kumar Pillai, Amjad Ali alias Rajkumar Akbar Ali Rana and Jisan Johar Abdul Gani.