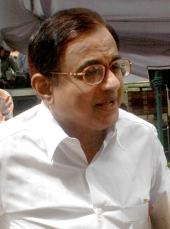 Home Minister P Chidambaram on Tuesday made it clear that there was no demand from Naxals for any swap of prisoners for the policeman whose body with a severed head was found this morning in Jharkhand.
Terming the act as "cold blooded" murder, Chidambaram said, "If the Naxals have any demand they should place their demand. But cold-blooded murder is simply not acceptable. I condemn it."
He was reacting to reports that the Naxals wanted to swap arrested Maoist leader Kobad Ghandy in exchange of policeman Francis Induwar, kidnapped on September 30. His body was found this morning at Raisha Ghati about 12 km from Ranchi.
"The (Jharkhand) Director General of Police has told me that there was no demand for a swap of prisoners. Besides, we are governed by the rule of law and prisoners are under the custody of court. We cannot swap prisoners with those who are outside the purview of law, who take the law in their hands," he said.
The home minister said the Maoists' "grand scheme" to create "liberated zone" would not succeed, as every government is duty-bound to protect its people and ensure that the writ of civil administration runs in every part of the state.
"That is what the government is doing and the Naxalites think that they can continue their armed liberated struggle. They are wrong. They have to put an end to the so called theory of armed liberation struggle," he said.
The home minister said the action from the Maoists could be seen as reaction following arrests of some of their top leaders recently.
"Since we have succeeded in arresting a few leaders of the Communist Party of India-Maoists, it is possible that they have stepped up their violence," he said.
The home minister said if the Maoists had any "genuine developmental" demand, that could have been considered.
"But the DGP told me that no demand was placed before the government and all that they found was a mutilated body," he said.
The home minister said, "I want to assure the special branch officials of Jharkhand that we are deeply grieved and his family will be provided compensation and other means of support."
Chidambaram said it was possible that the Naxalites would be able to capture one or two police officers, but the government did not function like them or kill people in cold-blood.
"We produce those arrested before a court of law and deal with them according to the law," he said.
Image: Home Minister P Chidambaram