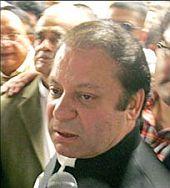 Former Pakistan Prime Minister Nawaz Sharif has decided not to contest the upcoming Punjab election on Saudi King Shah Abdullah's insistence.
According to the Daily Times, a deal struck between Sharif and former president Parvez Musharraf in 2000 under the guarantee of Saudi Arabia, prevents the Pakistan Muslim League-Nawaz chief from contesting elections or participating in Pakistan's politics till 2010.
The paper quoted a source as saying that during a recent meeting with the Saudi king, Sharif was advised to honour his agreement with Musharraf if he wanted to maintain his friendship with the king. In another breakthrough move, the Pakistan government has decided not to take any action against former president Pervez Musharraf and has clearly told Sharif about it.
Due to this, Sharif has decided against returning to Pakistan. However, PML-N Information Secretary Ahsan Iqbal said that reports of Saudi King's intervention were baseless.
"Media reports about any restriction on Nawaz Sharif from contesting polls till 2010 are baseless and part of a disinformation campaign against Sharif and his party," he said.
He claimed that the Saudi king had not asked Sharif to stay away from elections and taking part in the polls was a constitutional right of the PML-N chief.
"There was no agreement between Nawaz Sharif and Musharraf and it was only an understanding between Sharif and the Saudi royal family," he added.
Image: Former Pakistan PM Nawaz Sharif