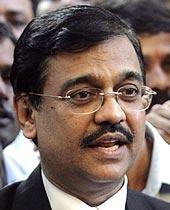 Special public prosecutor in the 26/11-terror attacks case, Ujjwal Nikam, on Friday demanded that the Pakistani court should conduct an open trial in the case, slated to begin there on Saturday.
Nikam said, "The trial in the 26/11 case is being conducted in an open court in Mumbai, then what prevents Pakistan from not doing so?" he said.
Pakistan has been criticising the Indian government of not providing enough evidences to arrest Jamaat-ud-Dawa chief Hafiz Mohammed Saeed, the main accused in the case, Nikam said, it was now turn of the Pakistani agencies to investigate the case after India had provided six dossiers to the neighbouring country.
An open trial in the case makes it more transparent and does not leave any ground for raising doubt over credibility and reliability of trial in the court, Nikam said.
Enough security has been provided for conducting the open trial in the case in Mumbai, he pointed out.
Nikam was in Vadodara to inaugurate a three-day national law fest organised by the Faculty of Law of Maharaja Sayajirao University and Baroda Legal School, where budding lawyers from 27 law colleges across the country are participating.
He added that the Mumbai trial had reached its fag end and prosecution's argument in the 26/11 case was expected to be complete by end of this month. This will be followed by hearing of the defence, he said.
Nikam described Mohammed Ajmal Amir Kasab, the lone terrorist arrested in the case, as an actor for frequently changing his stand in the trial. "Substantial evidence has been collected to prove the charge of conspiracy hatched by Kasab and nine other slain terrorists in the case."
He said the recovery of the global positioning system and the data retrieved from the instruments has exposed the involvement of conspirators in targeting places like the Taj Hotel, the Oberoi hotel and Nariman House during the attacks.
Speaking on delay in deciding on mercy petitions, Nikam demanded a time-bracket of three months for taking a decision after which it should be presumed that his mercy plea has been rejected by the President or governor and this should be followed by the execution of the convicted accused.
He pointed out several cases where mercy petitions have been pending for over 10 years.
Welcoming amendment in the criminal procedure code, he asked the participants to get ready for coping up with the challenge and suggested radical changes in the legal system. Nikam favoured allowing the statement made by an accused before the police as evidence, saying it exists in the US, where statement made before the Federal Bureau of Investigation is taken as evidence.
The prosecutor suggested framing a penal provision for the police if they misused their powers for this purpose.
Image: Special public prosecutor Ujjwal Nikam