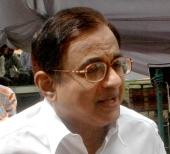 A Coimbatore-bound Jet Airways plane with Union Home Minister P Chidambaram on board returned to the Chennai airport on Friday due to a technical problem that developed mid-air.
The problem was detected while the flight was mid-air, following which it flew back to Chennai, airport officials said.
Later, the passengers including Chidambaram were put on another Jet Airways flight which left for Coimbatore, they said.