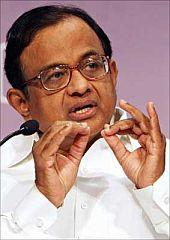 On a visit to Maoist-affected states of Chattisgarh and Jharkand, Union Home Minister P Chidambaram on Friday said there is no move to involve the army in the fight against Naxals who pose the "gravest challenge."
Chidambaram also said it was a matter of concern that Jharkhand has become the "epicentre of left-wing extremism" along with Chhatisgarh.
"There is no proposal to involve the army in anti-naxal operations," Chidambaram, who was in Ranchi to review the security situation in Jharkhand, told mediapersons in reply to a question whether there was a move to use the army or the air force for the operations.
"Left-wing extremism is the gravest challenge to our way of life, our republic and our democracy," he said about banned Communist Party of India (Maoist).
"Our policy on left-wing extremism is very clear. There is no place for violence or so called armed liberation struggle in a republican, democratic, social form of government," Chidambaram said.
"They believe in armed liberation struggle. We reject that argument. So long any one indulges in violence, the state has to oppose and fight the group," he said.
The Centre, he said, had made it clear during the recent Chief Ministers' Conference in Delhi that the so-called armed liberation struggle was unacceptable and the police would take action against it.
Describing the frontal organisations of the outfit as unfortunate, he said these organisations seemed to have taken a 'romantic view' of left-wing extremism.
Earlier, Chidambaram said in Raipur that the Centre is committed to fight Naxalism and that it would provide all possible help to the Chattisgarh government in its efforts to eradicate the left-wing extremists completely.
Stating that frontal organisations sometimes did become an impediment in the fight against naxalism, Chidambaram said that would not stop the government from taking action against Maoists.
He said there were numerous and well documented instances of atrocities by left-wing extremists. "Human rights organisation should condemn armed struggle," he said.
Adequate security forces were being given to Jharkhand to deal with the menace and the Centre was monitoring the situation closely, he also said.
To a question on the requirement of security forces for Jharkhand to tackle the increasing Maoist menace, he said, "We give forces according to need. We know the need of Jharkhand."
Chidambaram said he was in close touch with the bordering state of Orissa which has six to seven districts affected by the Maoist menace.
"Orissa Chief Minister Naveen Patnaik met me yesterday (on Thursday). I am in close touch with the government of Orissa ... but major presence of naxalites are in Jharkhand and Chhatisgarh which is why I used the word epicentre," Chidamabaram said.
Stating that the Centre was paying special attention to the situation in Jharkhand and Chhatisgarh, he said, "In the larger interest of the nation we confront the naxalites, contain them and defeat them."
On security forces working in difficult terrain, he said, "Of course, the conditions are difficult. But that does not mean we should not take action. It is all the more we require to prepare and take appropriate action against the naxalites."
On whether there was any politician-naxal nexus, the Home Minister replied that he was unaware of it. "I don't know. But if a politician mixes with naxalites, I think he will eventually pay a price. If any names are brought to my notice, certainly I will take action," he said.