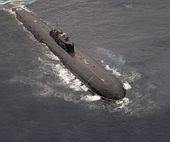 Pakistan Foreign Minister Shah Mahmood Qureshi on Wednesday said that the recent launch of a nuclear-powered submarine by India has undermined strategic stability in the region.
"We are opposed to nuclear proliferation as well as an arms race in the region," he said, adding that Pakistan believes the launch of the Indian nuclear-powered submarine will affect strategic stability.
Pakistan has proposed a "strategic restraint regime" to India with the three inter-locking principles of dispute settlement, conventional balance and nuclear and missile restraint, Qureshi said in his address at the Los Angeles World Affairs Congress.
"Our friends should encourage India to sign on to the proposed strategic restraint regime to guarantee strategic stability in our region," he said. Peace and security are inextricably linked and strategic stability in South Asia is critical for sustainable peace, he added.
India launched its first nuclear-powered submarine named Arihant in July. Built with Russian cooperation, the submarine will form the crucial third leg of India's triad of land, air and sea platforms capable of delivering nuclear weapons. India already has warplanes and missiles capable of carrying nuclear warheads.
Pakistan's nuclear capability was developed in self-defence following the Indian nuclear test in 1974, which disrupted the security balance in South Asia, Qureshi said.

"The establishment of deterrence then became important."
Qureshi said Pakistan adheres to a doctrine of credible minimum deterrence as a nuclear weapon state. The country's regional policy is based on promoting dialogue for peaceful settlement of disputes, he said.
Regional cooperation can be strengthened through trade, investment and people-to-people to contacts, he said.
Referring to Pakistan's relations with the US, Qureshi sought Washington's support for curbing terrorism and extremism.
He said the partnership between the two countries should be based on mutual trust and mutual respect "that is not transactional, but is enduring and multi-faceted, spanning trade and economy, defence and security, health and education, science and technology and counter-terrorism and non-proliferation".
The Kerry-Lugar Bill, he said, is a step forward in strengthening the strategic partnership.
"The 1.5 billion dollars annually in non-military assistance for a sustained period of five years should have a positive impact on the lives of the people," he said.
Qureshi said in the long run, the real transformational impetus will come not from aid but greater market access.
He said a free trade agreement, the bilateral investment treaty and early implementation of the Reconstruction Opportunity Zones legislation will have a major impact on Pakistan and the region.
He also welcomed the US offer to help Pakistan in overcoming its energy deficit. This aid should be sustained and involve efforts to diversify Pakistan's energy mix.

Pakistan and the US should continue their strategic dialogue to discuss all issues relating to disarmament and non-proliferation, he said.