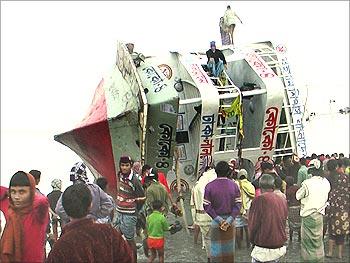 A ferry packed with 1,500 passengers on their way home to celebrate Eid-ul-Azha festival capsized at Nazirpur area in southwestern Bangladesh, drowning 30 people, officials said.
Rescuers working overnight recovered 30 bodies including of women and children from the three-deck ferry which capsized after almost berthing at the coastal town of Bhola, 104 km from Dhaka, local police chief Nazrul Islam told PTI.
He said the toll could rise as dozens more are trapped under the water. Rescuers used gas torches to cut open the submerged cabins. Some of those rescued were stated to be in critical condition in hospital.
The ferry MV Como was bound for Bhola from Dhaka when it tipped almost around midnight after reaching the destination with its rear portion sinking into the sea. The vessel tipped probably because it was jammed with people, sources said.
Government has constituted a high-power committee to probe the mishap. Seven bodies were recovered on Friday night while 23 other passengers of the ill-fated vessel were fished out on Saturday, police said.
"People were drowned as they got trapped inside the cabins," the police chief said adding that most of the passengers, however, swam ashore safely or were rescued by smaller boats as the mishap happened close to the shore.
Eye-witnesses said the passengers became panicky after hearing a loud noise at the lower deck, and made a scramble to disembark, fearing it had cracked.
The state-run Bangladesh Water Transport Authority officials said a salvage vessel was expected to reach the scene on Saturday night to retrieve the launch. But low depth of the water and low tide could hamper its efforts.
Image: Locals try to rescue the passengers of a ferry by the bank of river Tetulia, near Lalmohon town under Bhola district on Saturday 
Photograph: Reuters
Text: Anisur Rahman in Dhaka for PTI