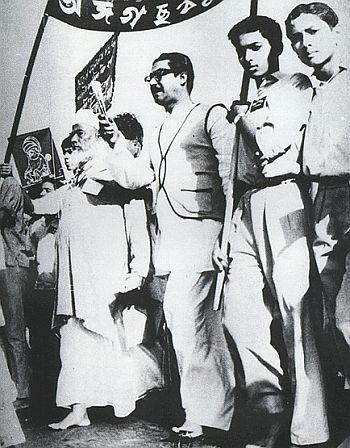 Thirty-four years after Bangladesh founder Sheikh Mujibur Rahman was assassinated in a coup, the country's Supreme Court on Thursday upheld the death sentence on five of his killers, paving the way for their walk to the gallows after a trial that dragged on for 13 years.
The five are among the 12 sacked Army officers, convicted for the 1975 killing, by the court, which delivered its judgment in 15 minutes amidst unprecedented security measures.
The apex court upheld the death sentence awarded to the killers by a lower court in 1998. Seven others, who were also convicted, are fugitives abroad.
Sheikh Mujib, popularly called Bangabandhu, who led Bangladesh to independence in 1971, was gunned down at his home in a posh Dhanmandi area, along with his wife and three sons in a coup on August 15, 1975.
His daughter Sheikh Hasina, who is the current prime minister, was abroad at that time.
A total of 20 people, including domestic staff, were killed when the Army officers stormed into his house, but the murder charges have been brought forward only for the killing of Sheikh Mujib.
"The Supreme Court has accepted our argument that the five men are guilty and dismissed their appeals. They will go to the gallows now," Chief State prosecutor Syed Anisul Haque, said.
Senior judge of the bench, Tafazzal Islam delivered the verdict at the heavily guarded and crowded courtroom, rejecting the leave to appeal prayers of five of the 12 convicted soldiers.
The case first came to the court in 1996, when Sheikh Hasina became the prime minister for the first time. She removed legal barriers enacted by the post-Mujib military governments to protect the killers.
At that time, the lower courts found 15 men guilty and sentenced them to death. Three were acquitted in 2001, while of the remaining 12, five appealed against the verdict to the Supreme Court.

The defence for the killers argued that Sheikh Mujib's death was part of a mutiny and that a military court should try the defendants.

The five, whose death penalties were confirmed by the apex court, are ex-Lieutenant Colonels Syed Farook Rahman, Shahriar Rashid Khan, Mohiuddin Ahmed, A K M Mohiuddin and major Bazlul Huda lodged in country's main central prison.
The state lawyers had sought to uphold the death penalties and the counsels for the jailed convicts had sought "life imprisonment" instead of death penalty for their clients.
But the counsels for the convicts pleaded for remission for a lighter punishment of their clients as five of the 12 ex-army officers who were earlier handed down the capital punishment already languished in jail for years since the trial process from 1996.
The six fugitives are sacked lieutenant colonels Abdur Rashid, Shariful Haq Dalim, Noor Chowdhury, Rashed Chowdhury, Captain Mazed and Risaldar Moslem Uddin while Dhaka has launched a diplomatic campaign to bring them back home also engaging the Interpol. The seventh fugitive died in Zimbabwe recently