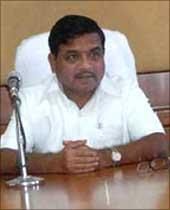 The Maharashtra government has not received any resignation letter from Mumbai Police Crime Branch chief Rakesh Maria, Home Minister R R Patil said in Mumbai on Friday.
"No such letter has been received," Patil told reporters at state secretariat Mantralaya.
Patil's clarification comes in the wake of media reports that Maria threatened to resign, upset over the allegations made against him by Vinita Kamte, widow of martyred Additional Commissioner of Police Ashok Kamte (East), in her book To the Last Bullet, on the circumstances leading to her husband's death.
Maria, according to reports, had said he would quit if the state Home Department did not clarify allegations leveled against him or allow him to do so.
Earlier, Vinita, while reacting to reports about Maria's threat to quit, said, "I'm ready to face any questions raised by anyone about everything written in my book. I stand by each and every word".
"My book is based on the facts given by the Mumbai police by using the Right To Information Act," she said.