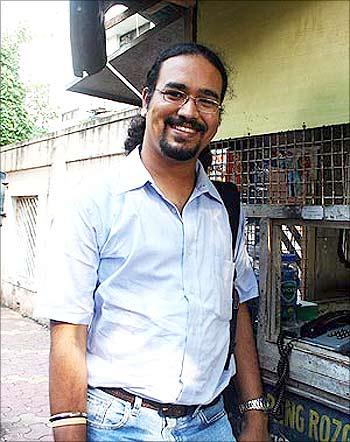 "He's just a boy!" our photographer quips as we walk towards the office after a shoot with Nandan Kini.
He sports a French-cut beard, perhaps to look older than he is. But Kini is all of 22 years and has worked with Dan Reed on Terror in Mumbai the much-talked-about documentary on the 26/11 attacks in Mumbai.
Reed has spoken highly of him in interviews to various publications. Kini though has preferred to remain unnoticed. This is how he has always been, an introvert.
"Through school and college, friends would joke that they'd never heard my voice," he chuckles. "And here I am in a job that requires me to go out of my way, speak with people and get them to talk to the camera. It's ironical!"
Walking around the city is what Kini enjoys the most and speaks of the times when he'd bunked college take a bus from his suburban Mumbai home and travel downtown only to "stroll around the city streets".
Currently on "a sabbatical" from his classes, Kini is researching for yet another documentary -- for a German filmmaker – on inter-religious dynamics in the city.
Working with award-winning documentary director Dan Reed though was a memorable experience, what he'll also find difficult to erase from his memory are the heart-wrenching stories he came across during the making of his film.
"We visited the house of the husband of a woman who had died at the Chhatrapti Shivaji Terminus late one evening. It was a dimly lit room and there was an agarbatti near her photograph. Their two-year-old daughter was toddling around the room asking where her mother was… The girl was slowly forgetting about the woman who gave her birth," Kini says.
The words hang gloomily in the room as he continues, "There was another person who lost six of his family members in the attack. He lives in Mumbai Central in a house no larger than an office cubicle. When we spoke to him he confessed he didn't have the money to ensure that his family got a decent burial. These experiences held up a mirror. Suddenly, I had no reasons to complain about my life."
Kini started work on Terror in Mumbai on January 18. Sky News had recommended him to Dan Reed, who got in touch with him almost immediately after he landed in Mumbai. Kini had worked as a producer for Sky on a freelance basis when they covered 26/11. It was also his first serious 'city reporting' assignment.
"I write a lot on music and have generally covered the entertainment beat. But the bug of covering the city was always there. When this came up I found myself doing what I always wanted to do, but was also at the deep end of the ocean," he says.
Much to his surprise, the introvert Kini suddenly discovered that he did have some amount of people skills. He got the Sky News crew into JJ Hospital when no one was being let in. He also networked and got into the chief minister's press conference where Home Minister R R Patil made the infamous remark that led to his resignation. And he also reported briefly from the Leopold Café when it opened for half-an-hour a few days after the ill-fated Wednesday.
When you ask him what he thought of the Indian electronic media's coverage of the event he pauses for a while and echoes what everyone has been saying, "During the making of the documentary some of our interviewees revealed that certain news channel reports ended up giving away their exact location putting their lives in danger. It was insensitive reporting and poor judgement."
This was also the very line that Kini found himself treading on as he started work on the film. His job was to trace survivors and families of the victims and convince them to speak before the camera. The leads were sketchy and almost impossible for him to find. At times he had to look at fresh leads featured in newspaper reports.
He says, "For the longest time my room was filled with newspaper clippings right from the day after the attack. I didn't throw a single paper till the film was complete."
When he did track down his prospective subjects Kini was faced with the daunting task of asking them the uncomfortable questions.
"How do you ask the survivors what they thought when they saw their loved ones being killed before their eyes?" he asks. Yet it was a territory that needed to be explored. So Kini started meeting them from as early as January even though the actual production was not to start before April.
"It was a relationship that I developed over the months. I met them at least a few times, spoke with them and ensured they were comfortable. So when we finally visited their homes with the camera crew, they were not caught unawares."
Indeed a sense of intimacy comes across through the interviews -- the profound human tales of sorrow and survival overshadowing the gruesome, cold interactions between the terrorists.
Not everyone though was willing to speak out. Some of the South Mumbai residents were apprehensive of coming on camera, so were some of the poorer victims. Kini suggests that the hesitation was partly because of the way the Indian media handled the situation.
"Some of the most senior journalists showed that they really didn't have a sensitive hand while dealing with the hostages. When you see such things, you do begin to have reservations. Some other victims we spoke with were not entirely open to the idea of getting undue attention. We had to respect that and draw a line," he says.
One such story that Kini regrets not having told is that of Shashank Shinde, the railway police inspector who lost his life during a scuffle with two of the terrorists at CST.
He says, "The tape where you see Jillu Yadav shooting the terrorists had a lot more footage. It showed Shinde walking towards the scene of action armed with just a service revolver even as other constables ran away. He took on the terrorists and died fighting. We met some of his colleagues, who told us that Shinde knew exactly what he was getting into because he knew the sound of an AK-47 rifle. I was shocked to learn that he wasn't even being considered for the Ashoka Chakra (the Indian military decoration awarded for valour, courageous action or self-sacrifice away from the battlefield). Shinde's family were in mourning when we approached them, so we couldn't really interview them."
Some other stories too remained untold -- most of them were those of South Mumbai elite, who Kini says didn't realise the gravity of the situation, but later called up and expressed their regret after the film received acclaim. "But it was too late by then," he says.
Kini insists there wasn't any experience that harrowed him per se. But he does confess that he hasn't watched the film at all.
"I have seen the reality for myself. I don't need a film to show me that, even if it is a film I have been associated with," he says, his voice briefly cracking at a point.
"If at all the experience gave me a sense of well-being. It made me aware that I lead a very comfortable life and that I should not be cribbing about anything at all."
Interestingly, one of Kini's first memories of the city was that of a bare-chested man lying dead with a bullet wound on his chest… in the building compound where he played each evening.
"I was three, when the shootout at Lokhandwala happened. Bullets were being fired from the terrace of my building. A policeman took a stone from my house and broke open a lock," he recollects, adding it wasn't the only event in the city's history he was witness to.
"The (July 11, 2006) train blast at Matunga Road railway station happened before my eyes. I saw the train compartment being ripped apart. For the next 15 minutes, I couldn't hear anything. Then it started raining. After that I just walked and walked till I reached Bandra before someone offered to share a rickshaw with me. I can remember the image of the train as if it happened yesterday. It hasn't left me."
A long silence follows. The tea brought in for us has turned cold quite some time ago. Somewhere a clock keeps ticking. Suddenly it's as if there's nothing left to ask.
Kini speaks up: "They say Mumbai has a very commercial outlook. Many of us were at work the very next day after 26/11… even though there were terrorists roaming free. Some find it cold how the city moves on as if nothing has happened. The way I see it, those who are out there working always have someone to feed at home, someone who will go hungry if the sole earning member doesn't swipe into work the next day. It is a matter of survival. Mumbai has larger concerns than death and that is probably what makes it so resilient."
Image: Nandan Kini | Photograph: Uttam Ghosh