Prasanna D Zore meets a man who has walked hundreds of miles to pay homage on the first anniversary of the 26/11 attacks.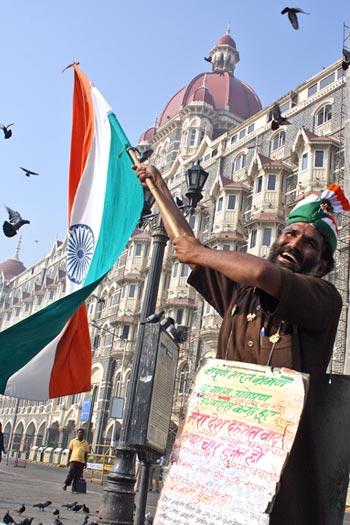 He waves the Indian tricolour proudly in front of the Taj Mahal hotel in Mumbai.
"Today is the first anniversary of the 26/11 terror attacks on India," says Manohar Anand Patil who has traveled all the way from Latur, Maharashtra. He has walked hundreds of miles barefoot "to offer my gratitude to all the brave policemen and soldiers who sacrificed their lives to protect this city."
Patil was briefing a group of avid listeners who had gathered near the hotel -- one of Mumbai's iconic structures and a target during the terror strikes last year -- to witness various events to mark the first anniversary of the attacks.
Patil, 39, can truly appreciate the value of sacrificing one's life for the country -- he had been a soldier once. He served at the Siachen glacier for two years in the Indian Army's Signals Wing, serving rations and food to soldiers who guard the most difficult border post between India and Pakistan.
"It is thanks to the brave officers of the Mumbai police, the National Security Guard and various other forces that took part in the operations that day that you are alive today," he tells the group of people who have gathered around him.
Patil also regaled the audience with patriotic songs like Vande Mataram, the national anthem and Lata Mangeshka's timeless classic Ae Mere Watan Ke Logo.
Patil says he will leave the Gateway of India only after offering his shraddhanjali (tribute) to the memory of all those who died in the terror attacks.
The former soldier, who left his family in Latur so that he could be in Mumbai for the terror strikes's first anniversary, plans to walk barefoot across the swathe of Gujarat, Rajasthan, Jammu and Kashmir, Assam and the entire North East "to spread my message."
"We should weed out corruption from our system; we should give autonomy to various armed forces to act swiftly during incidents like the 26/11 attacks and hold officers accountable for their actions," is Patil's message to the nation, particularly Mumbai, which has repeatedly been at the receiving end of terror strikes and government inaction.
Manohar Anand Patil may not be a politician or a celebrity, but on this occasion, he has got a number of people listening to his message of peace.
A strange spirit binds him and his listeners. Something we call the spirit of India.
Photograph: Rajesh Karkera